Selecting the memorized position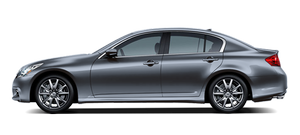 1. Automatic transmission models: Move the selector lever to the P (Park) position.
Manual transmission models: Apply the parking brake.
2. Raise the seatback (Coupe).
3. Use one of the following methods to move the driver's seat, the outside mirrors and the steering wheel.
• Push the ignition switch to the ON position and push the memory switch (1 or 2) fully for at least 1 second.
• Within 45 seconds of opening the driver's door, push the memory switch (1 or 2) fully for at least 1 second.
The driver's seat, steering column and outside mirrors will move to the memorized position with the indicator light flashing, and then the light will stay on for approximately 5 seconds.
For manual transmission models, the memory positions can be selected even when the engine is running. In this case, move the shift lever to the N (Neutral) position and apply the parking brake.
Then, perform step 2.
See also:
Important information about this manual
You will see various symbols in this manual. They are used in the following ways: WARNING This is used to indicate the presence of a hazard that could cause death or serious personal injury. To avoi ...
Battery
If the battery is not fully charged during extremely cold weather conditions, the battery fluid may freeze and damage the battery. To maintain maximum efficiency, the battery should be checked regular ...
Emergency engine shut off
To shut off the engine in an emergency situation while driving, perform the following procedure: – Rapidly push the push-button ignition switch 3 consecutive times in less than 1.5 seconds, or – ...