System operation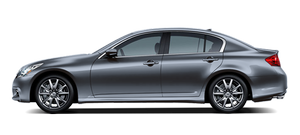 The automatic drive positioner system will not work or will stop operating under the following conditions: . When the vehicle speed is above 4 MPH (7 km/h).
• When the adjusting switch for the driver's seat and steering column is turned on while the automatic drive positioner is operating.
• When the memory switch 1 or 2 is not pushed for at least 1 second.
• When the seat, steering column and outside mirrors have already been moved to the memorized position.
• When no position is stored in the memory switch.
• When the parking brake is released (MT models).
• When the speed is above 4 MPH (7 km/h) while the parking brake is applied (MT models).
To restart the drive positioner system, move the parking brake to off and on.
• When the engine is started while moving the automatic drive positioner.
• When the AT selector lever is moved from the P (Park) position to any other position. (However, it will not be canceled if the switch is pushed while the seat and steering column are returning to the previous positions (entry/exit function).) . When the driver's door remains open for more than 45 seconds and the ignition switch is not in the ON position.
• When the seatback is folded (Coupe).
• While the walk-in function operates (Coupe).
• The seat synchronization function is automatically disabled if the outside mirrors or steering wheel reaches its maximum adjustment.
• The seat synchronization function will not operate if the seat is adjusted over one of the following maximum thresholds:
— Seat sliding: 3.0 in (76 mm)
— Seatback reclining: 9.1 degrees
— Seat lifter (rear side): 0.8 in (20 mm)
See also:
Startup display
When the vehicle in placed in the ON or ACC position the screens that display in the vehicle information include: ● Active system status (if so equipped) ● Trip computer ● Tir ...
Vehicle security system activation
The vehicle security system will give the following alarm: ● The turn signals blink and the horn sounds intermittently. ● The alarm automatically turns off after a period of time. Ho ...
Engine and powertrain
Infiniti's latest 3.7-litre V6 is a potent, high revving, 24-valve twin cam unit producing 235 kW at 7,000 rpm (320 PS) and an impressive 360 Nm of torque at 5,200 rpm. Constructed from lightwei ...