Music Box® (if so equipped)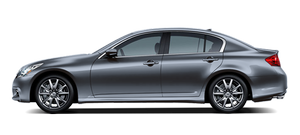 Recording:
• Note that data that is lost and not stored to the hard drive/flash memory due to system damage, improper operation or malfunction is not under warranty.
• Vehicle owners are not permitted to record music without permission of the owner of the copyright except for personal use.
• Check if the music is appropriately recorded to the hard drive/flash memory after recording when the compact disc cannot be rerecorded.
• Some music cannot be recorded depending on the disc condition due to high-speed recording.
• Jumping sounds may be recorded when a compact disc is recorded while driving on rough roads and excessive vibration occurs.
• A mark indicating jumping sounds is displayed if jumping sounds are recorded.
• No sounds may be recorded if jumping sounds occurs or the disc is in poor condition.
• Tracks that include Serial Copy Management System (SCMS) are not recorded.
• If a compact disc is scratched or dirty, it may not be recorded, jumping sounds may occur or it may take a long time to record.
Automatic title download:
• The title information that is automatically downloaded may differ from the actual title.
• When newly released compact discs are recorded, their title information may not be downloaded.
• The title information in the hard drive/ flash memory can be updated. (See "Playing recorded songs").
See also:
BSW/Blind Spot InterventionTM driving situations
Another vehicle approaching from behind The BSW/Blind Spot InterventionTM indicator light illuminates if a vehicle enters the detection zone from behind in an adjacent lane. However, if t ...
Supplemental air bag warning light
The supplemental air bag warning light, displaying in the instrument panel, monitors the circuits for the air bag systems, pretensioners and all related wiring. When the ignition switch is pla ...
Moisture
Accumulation of sand, dirt and water on the vehicle body underside can accelerate corrosion. Wet floor coverings will not dry completely inside the vehicle, and should be removed for drying to avoid f ...