Bluetooth® settings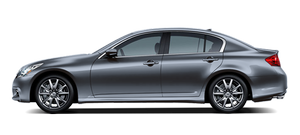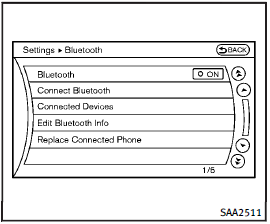 Bluetooth® settings
To set up the Bluetooth® device system to the preferred settings, push the SETTING button and select the "Bluetooth" key.
Bluetooth:
If this setting is turned off, the connection between the Bluetooth® devices and the in-vehicle Bluetooth® module will be canceled.
Connect Bluetooth:
Connects to the Bluetooth® device. See "Connecting procedure". Up to 5 devices can be registered.
Connected Devices:
Registered devices are shown on the list.
Select a Bluetooth® device from the list, the following options will be available.
• Select
Select "Select" to connect the selected device to the vehicle. If there is a different device currently connected, the selected device will replace the current device.
• Edit
Rename the selected Bluetooth® device using the keypad displayed on the screen. (See "How to use touch screen (models with navigation system)".)
• Delete
Delete the selected Bluetooth® device.
Edit Bluetooth Info:
Change the name broadcasted by this system over Bluetooth®. Change the PIN code that is entered when connecting a hands free device to this system.
Replace Connected Phone:
Replace the Bluetooth® connection with a connected Bluetooth® cellular phone. For details about Hands-Free Phone System, see "Bluetooth® Hands-Free Phone System (models with navigation system)".
See also:
Brake pad wear warning
The disc brake pads have audible wear warnings. When a brake pad requires replacement, it will make a high pitched scraping sound when the vehicle is in motion. This scraping sound will first occur on ...
Camera settings (if so equipped)
The "CAMERA" screen will appear when selecting the "Camera" key with the INFINITI controller and pushing the ENTER button. For the details about the camera system operation, see "RearView monitor". ...
BCI system operation
● When the radar sensors may not be able to detect certain objects such as: – Pedestrians, bicycles, animals – A vehicle that passing at speeds greater than approximately 15 MPH (24 km/h ...