Recording CDs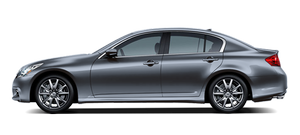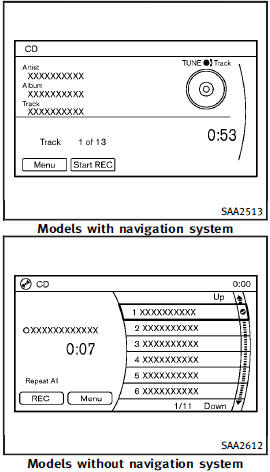 1. Operate the audio system to play a CD.
For the details of playing CDs, see "Compact Disc (CD) player operation".
2. Select the "Start REC" or "REC" key.
NOTE:
• The system starts playing and recording the 1st track on the CD when the "Start REC" or "REC" key is selected.
• The recording process can be stopped at any time. All tracks that were played before the CD was stopped are stored.
• Individual tracks can be deleted from the hard drive/flash memory after the CD is recorded.
• The order of the tracks may not be changed while recording.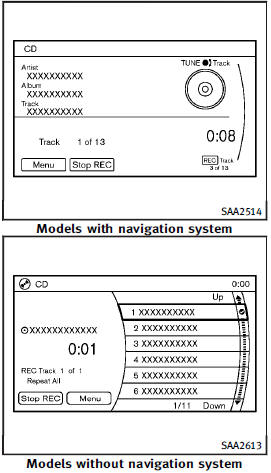 If the title information of the track being recorded is stored either in the hard drive/ flash memory or in the CD, the title is automatically displayed on the screen. For title acquisition from the hard drive/flash memory, music recognition technology and related data are provided by Gracenote®.
If a track is not recorded successfully due to skipping sounds, the mark is displayed behind the track number.
The Music Box® hard drive/flash memory cannot perform recording under the following conditions.
• There is not enough space on the hard drive.
• The number of albums reaches the maximum of 500.
• The number of tracks reaches the maximum of 3,000.
Automatic recording:
If the "Automatic Recording" function is turned to ON, recording starts when a CD is inserted. (See "Music Box® settings".)
Stopping recording:
To stop the recording, select the "Stop REC" key button by touching the screen or using the INFINITI controller.
If the CD is ejected, the audio system is turned off or the ignition switch is pushed to the OFF position, the recording also stops.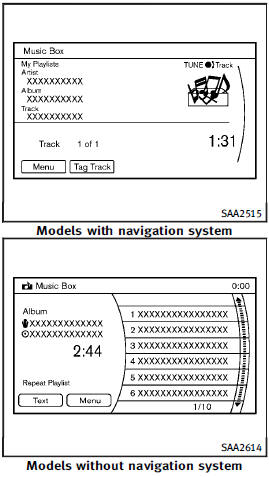 See also:
Mechanical key
The Intelligent Key contains the mechanical key, which can be used in case of a discharged battery. To remove the mechanical key, release the lock knob on the back of the Intelligent Key. To i ...
Automatic drive positioner (if so equipped)
The automatic drive positioner system has three features: ● Memory storage function ● Entry/exit function ● Seat synchronization function ...
Treadwear
The treadwear grade is a comparative rating based on the wear rate of the tire when tested under controlled conditions on a specified government test course. For example, a tire graded 150 wou ...