Styling & Quality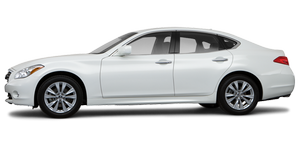 I won't waste much virtual ink describing the M's styling revisions; they're better shown in the thumbnails at right. Suffice it to say the M looks much like it did before, though certain elements now recall the redesigned G35. Models with the Sport package get 19-inch alloy wheels, while others have 18-inchers.
Originally lauded for its quality compared with Infiniti's previous efforts, the M's cabin has held up well thus far. Interior surfaces aren't as sumptuous as those in the E-Class or Jaguar XF, but the dashboard rises to the windshield in steps, giving the cabin a much roomier feel than either car. Materials quality keeps with the competition: There are leather wrappings around the door pulls and chrome runners along the steering wheel. The cabin trim — aluminum or optional wood — is the real deal, not synthetic.
Audio options range from a six-speaker, six-CD stereo to two Bose systems with eight and 14 speakers, respectively. My test car had the eight-speaker system, which proved rich enough for my taste; I don't think I'd go for the top-shelf upgrade.
The navigation system's graphics are getting a bit dated, but its layout generally wallops the competition. Users can touch the on-screen commands or any of numerous shortcut buttons to zoom in or out, move the cursor around the map, go back to the previous screen, you name it. The intersection input lets you search within a specified city, a clear advantage over systems that aggravatingly display every 3rd and Main in eight surrounding states.
Real-time traffic uses a feed from XM's NavTraffic subscription service to depict congestion levels with color-coded lines along the highway. It can find the quickest route to your destination based on current traffic conditions, something early real-time traffic navigation systems didn't do. On one trip up Chicago's Kennedy expressway, the system reported that my route was largely congestion-free — while I sat in bumper-to-bumper traffic. I'll note, at least, that it rarely overreported traffic. Infiniti says the feed goes from XM to all models with NavTraffic, so this would likely be an issue in any car with the system.
Seating & Cargo
Four of the M's five seats offer ample legroom and headroom, but the bulky floor hump in back means a fifth passenger has to share foot room. The front seats have standard 10-way power adjustments, and there's plenty of range for taller drivers. After you park, the steering wheel automatically powers upward to ease exit and entry — and does so much faster than in some of the M's crankier peers.
Maximum cabin volume is 105.2 cubic feet, and trunk volume is 14.9 cubic feet. Like most other cars in this class, the M lacks a folding backseat. There's a center pass-thru for skis or other long items, but it's fairly small. (If you want a car with a folding seat in this segment, try the E-Class or XF.)
Cabin & Cargo Compared
Cabin volume (cu. ft.) Trunk volume (cu. ft.)
Lexus GS 109.1 12.7
Lincoln MKS* 105.9 18.4
Infiniti M 103.1 - 105.2** 14.9
Cadillac STS* 102.9 13.8
BMW 5 Series 99.1 14.0
Acura RL 99.1 13.1
Jaguar XF 99.0 17.7
Volvo S80 99.0 14.9
Mercedes E-Class 97.2 15.9
Audi A6 96.2 15.9
*Models do not include standard moonroofs. Volumes for other cars listed with moonroofs.
**105.2 standard, 103.1 with Premium Package.
All data for 2008 models except 2009 Acura RL, Lincoln MKS and Jaguar XF.
See also:
Trip computer
Switches for the trip computer are located on the right side of the combination meter panel. To operate the trip computer, push the switches as shown above. When the ignition switch is push ...
System components
Rear displays CAUTION ● The glass screen on the liquid crystal display may break if hit with a hard or sharp object. If the glass breaks, do not touch the liquid crystalline material. In cas ...
Readiness for inspection/maintenance (I/M) test
Due to legal requirements in some states and Canadian Provinces, your vehicle may be required to be in what is called the "ready condition" for an Inspection/Maintenance (I/M) test of the emission con ...