2008 Infiniti M35 Review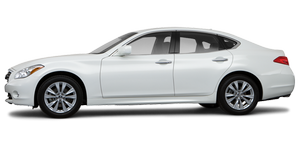 A car that's two years into its current design is usually beginning to show its age, especially when it has as many serious competitors as Infiniti's M sedan does. The M outpaces that trend: The 2006 original took the field by storm, and today's car is nine-tenths as terrific. In a segment whose players' strengths vary across many fronts — performance, technology, quality, reliability — the M emerges a competent choice across the board.
Infiniti sells two variants, the V-6 M35 and the V-8 M45. All-wheel-drive versions of both are also available, dubbed M35x and M45x. Ever since the brand dropped the larger Q45, the M has become its de facto flagship. As such, it's enjoyed frequent updates to stay competitive. The 2008 model sports revised styling and a handful of new technologies. Click here to see a comparison with the 2007 model.
This review covers an M35, though I've also driven the M45.
See also:
Child restraints
...
What Is It?
Infiniti's first crack at the in-house tuner idea. IPL stands for Infiniti Performance Line, the company's new performance subbrand. The IPL differs from good old Gs in that it has a more aggressi ...
Waxing
Regular waxing protects the paint surface and helps retain new vehicle appearance. Polishing is recommended to remove builtup wax residue and to avoid a weathered appearance before reapplying ...