Wet brakes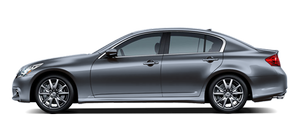 When the vehicle is washed or driven through water, the brakes may get wet.
As a result, your braking distance will be longer and the vehicle may pull to one side during braking.
To dry brakes, drive the vehicle at a safe speed while lightly tapping the brake pedal to heat-up the brakes. Do this until the brakes return to normal. Avoid driving the vehicle at high speeds until the brakes function correctly.
See also:
Remote starting the vehicle
perform the following: 1. Aim the Intelligent Key at the vehicle. 2. Press the LOCK button to lock all doors. 3. Within 5 seconds press and hold the remote start button until the turn ...
To protect your vehicle from corrosion
● Wash and wax your vehicle often to keep the vehicle clean. ● Always check for minor damage to the paint and repair it as soon as possible. ● Keep drain holes at the bottom of ...
SAFETY
The EX35 may have missed the mark on storage space and rear legroom; however, it earns extra points for its safety features. The 2011 EX35 has been named a Top Safety Pick by the Insurance Institu ...