4 Wheel Active Steer (4WAS) system (if so equipped)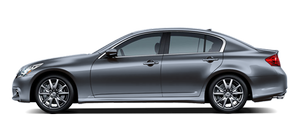 The 4 Wheel Active Steer (4WAS) system is an electronically controlled four-wheel steering system.
Depending on the vehicle speed and steering angle, the angles of the front and rear wheels are adjusted by the 4WAS system to help improve driving performance.
If a malfunction occurs in the system, the 4WAS function will stop but the ordinary two-wheel steering system will operate normally. The У4WASФ warning light will illuminate. If the light illuminates while you are driving, contact an INFINITI retailer for repair.
The steering wheel may be slightly turned even when driving on a straight road due to a protection mechanism for the 4WAS system. This is not a malfunction. The steering wheel will return to the normal position after the protection mechanism deactivates.
The protection mechanism activates under the following conditions: . The steering wheel is operated forcibly when it is hard to operate or the tires are blocked by obstacles.
Х The steering wheel is continuously operated when the vehicle is parked or being driven at extremely low speed.
Х The steering wheel is forcibly turned beyond its operation limits.
Х The battery voltage is reduced.
Repeated steering maneuvers that may activate the protection mechanism will damage the 4WAS system.
WARNING
The 4WAS system, although a sophisticated device, cannot prevent accidents resulting from careless or dangerous driving techniques.
Ultimately the responsibility for safety of self and others rests in the hands of the driver. Therefore only through attentive and careful driving methods can the 4WAS system be fully appreciated and safety optimized.
See also:
Programming trouble-diagnosis
If the HomeLink does not quickly learn the handheld transmitter information: ● replace the hand-held transmitter batteries with new batteries. ● position the hand-held transmitter wi ...
How to use the INFINITI controller
Choose an item on the display by rotating or pushing the center dial 2 upward or downward. Press the ENTER button 1 to select an item. If you press either of the BACK buttons 3 before the o ...
During a call
During a call There are some options available during a call. Select one of the following displayed on the screen if necessary. Х Hang upFinish the call. Х Use HandsetTransfer the call to the cel ...