Rocking a stuck vehicle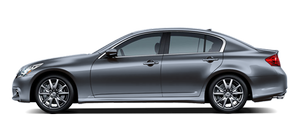 If your vehicle is stuck in sand, snow, mud, etc., use the following procedure: 1. Turn off the Vehicle Dynamic Control (VDC) system.
2. Make sure the area in front and behind the vehicle is clear of obstructions.
3. Turn the steering wheel right and left to clear an area around the front tires.
4. Slowly rock the vehicle forward and backward.
Х Shift back and forth between R (reverse) and D (drive) (automatic transmission models) or 1st (low) and R (reverse) (manual transmission models).
Х Apply the accelerator as little as possible to maintain the rocking motion.
Х Release the accelerator pedal before shifting between R and D (automatic transmission models) or 1st and R (manual transmission models).
Х Do not spin the tires above 35 MPH (55 km/h).
5. If the vehicle cannot be freed after a few tries, contact a professional towing service to remove the vehicle.
See also:
Automatic transmission
7 speed automatic transmission The automatic transmission in your vehicle is electronically controlled by a transmission control module to produce maximum efficiency and smooth operation. Shown on t ...
Engine serial number
The number is stamped on the engine as shown. ...
Troubleshooting guide
The system should respond correctly to all voice commands without difficulty. If problems are encountered, follow the solutions given in this guide for the appropriate error. Where the solutions ar ...