Cleaning exterior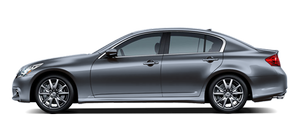 In order to maintain the appearance of your vehicle, it is important to take proper care of it.
To protect the paint surface, wash your vehicle as soon as you can: . after a rainfall to prevent possible damage from acid rain . after driving on coastal roads . when contaminants such as soot, bird droppings, tree sap, metal particles or bugs get on the paint surface . when dust or mud builds up on the surface Whenever possible, store or park your vehicle inside a garage or in a covered area.
When it is necessary to park outside, park in a shady area or protect the vehicle with a body cover.
Be careful not to scratch the paint surface when putting on or removing the body cover.
See also:
Air pollution
Industrial pollution, the presence of salt in the air in coastal areas, or heavy road salt use will accelerate the corrosion process. Road salt will also accelerate the disintegration of paint surfac ...
Family-friendly features
While the wide, flat seats in the QX56 are awesome for installing an array of odd-sized child-safety seats, they're not awesome for holding smaller drivers and passengers in place during the slight ...
Care of wheels
See "Cleaning exterior" for details about care of the wheels. ...