Inside the vehicle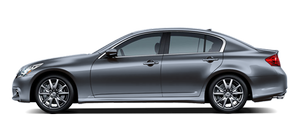 The maintenance items listed here should be checked on a regular basis, such as when performing periodic maintenance, cleaning the vehicle, etc.
Accelerator pedal: Check the pedal for smooth operation and make sure the pedal does not catch or require uneven effort.
Keep the floor mat away from the pedal.
Automatic transmission P (Park) mechanism: On a fairly steep hill, check that your vehicle is held securely with the selector lever in the P (Park) position without applying any brakes.
Brake pedal: Check the pedal for smooth operation. If the brake pedal suddenly goes down further than normal, the pedal feels spongy or the vehicle seems to take longer to stop, see an INFINITI retailer immediately. Keep the floor mat away from the pedal.
Brakes: Check that the brakes do not pull the vehicle to one side when applied.
Parking brake: Check the parking brake operation regularly. The vehicle should be securely held on a fairly steep hill with only the parking brake applied. If the parking brake needs adjusted, see an INFINITI retailer.
Seat belts: Check that all parts of the seat belt system (for example, buckles, anchors, adjuster and retractors) operate properly and smoothly, and are installed securely. Check the belt webbing for cuts, fraying, wear or damage.
Seats: Check seat position controls such as seat adjusters, seatback recliner, etc. to ensure they operate smoothly and that all latches lock securely in every position.
Check that the head restraints move up and down smoothly and that the locks (if so equipped) hold securely in all latched positions.
Steering wheel: Check for changes in the steering conditions, such as excessive free play, hard steering or strange noises.
Warning lights and chimes: Make sure that all warning lights and chimes are operating properly.
Windshield defroster: Check that the air comes out of the defroster outlets properly and in sufficient quantity when operating the heater or air conditioner.
Windshield wiper and washer*: Check that the wipers and washer operate properly and that the wipers do not streak.
See also:
Most common factors contributing to vehicle corrosion
● The accumulation of moisture-retaining dirt and debris in body panel sections, cavities, and other areas. ● Damage to paint and other protective coatings caused by gravel and stone ch ...
Meters and gauges
1. Tachometer (P.2-8) 2. Warning/Indicator lights (P.2-11) 3. Speedometer (P.2-7) 4. Engine coolant temperature gauge (P.2-8) 5. Voltmeter (P.2-10) 6. Dot matrix liquid crystal display/ ...
Three-point type seat belt
WARNING ► Every person who drives or rides in this vehicle should use a seat belt at all times. ► Do not ride in a moving vehicle when the seatback is reclined. This can be dang ...