Engine oil and filter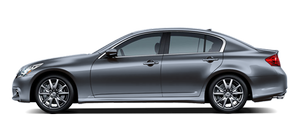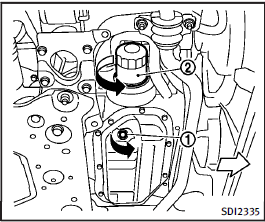 Two-wheel drive (2WD) models (VQ25HR/VQ37VHR engine)
1. Place a large drain pan under the drain plug.
2. Remove the oil filler cap.
3. Remove the drain plug 1 with a wrench and completely drain the oil.
CAUTION
Be careful not to burn yourself, as the engine oil is hot.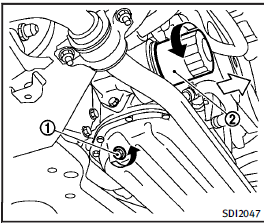 All-wheel drive (AWD) models (VQ25HR/VQ37VHR engine)
• Waste oil must be disposed of properly.
• Check your local regulations.
4. (Perform steps 4 to 7 only when the engine oil filter change is needed.) Loosen the oil filter 2 with an oil filter wrench. Remove the oil filter by turning it by hand.
5. Wipe the engine oil filter mounting surface with a clean rag.
CAUTION
Be sure to remove any old rubber gasket remaining on the mounting surface of the engine. Failure to do so could lead to engine damage.
6. Coat the gasket on the new filter with clean engine oil.
7. Screw in the oil filter clockwise until a slight resistance is felt, then tighten additionally more than 2/3 turn.
Oil filter tightening torque:
11 to 15 ft-lb
(14.7 to 20.5 N·m)
8. Clean and re-install the drain plug with a new washer. Securely tighten the drain plug with a wrench.
Drain plug tightening torque:
22 to 29 ft-lb
(29 to 39 N·m)
Do not use excessive force.
9. Refill engine with recommended oil and install the oil filler cap securely.
See "Capacities and recommended fuel/lubricants" for drain and refill capacity. The drain and refill capacity depends on the oil temperature and drain time. Use these specifications for reference only. Always use the dipstick to determine the proper amount of oil in the engine.
10.Start the engine and check for leakage around the drain plug and the oil filter.
Correct as required.
11.Turn the engine off and wait more than 15 minutes. Check the oil level with the dipstick. Add engine oil if necessary.
See also:
How to use brightness control and display ON/OFF button
HOW TO USE BRIGHTNESS CONTROL AND DISPLAY ON/OFF BUTTON Push the button to switch the display brightness to the daytime mode or the nighttime mode, and to adjust the display brightness usin ...
Making a call
To make a call, follow the procedure below: 1. Press the PHONE button on the instrument panel or the switch on the steering wheel. The "Phone" screen will appear on the display. 2. Select one ...
120v outlet (if so equipped)
CAUTION ● The outlet and plug may be hot during or immediately after use. ● Use power outlets with the engine running to avoid discharging the vehicle battery. ● For devic ...