Sedan and coupe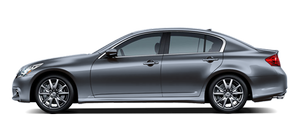 WARNING
Х Do not expose the battery to flames or electrical sparks. Hydrogen gas generated by the battery is explosive. Do not allow battery fluid to contact your skin, eyes, fabrics, or painted surfaces. After touching a battery or battery cap, do not touch or rub your eyes. Thoroughly wash your hands. If the acid contacts your eyes, skin or clothing, immediately flush with water for at least 15 minutes and seek medical attention.
Х Do not operate the vehicle if the fluid in the battery is low. Low battery fluid can cause a higher load on the battery which can generate heat, reduce battery life, and in some cases lead to an explosion.
Х When working on or near a battery, always wear suitable eye protection and remove all jewelry.
Х Battery posts, terminals and related accessories contain lead and lead compounds.
Wash hands after handling.
Х Keep the battery out of the reach of children.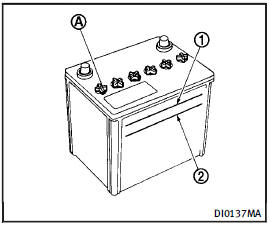 Check the fluid level in each cell (Remove the battery cover if it is necessary). It should be between the UPPER LEVEL 1 and LOWER LEVEL 2 lines.
If it is necessary to add fluid, add only distilled water to bring the level to the indicator in each filler opening. Do not overfill.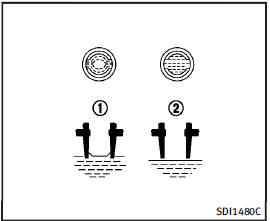 1. Remove the cell plugs A .
2. Add distilled water up to the UPPER LEVEL 1 line.
If the side of the battery is not clear, check the distilled water level by looking directly above the cell; the condition 1 indicates OK and the conditions 2 needs more to be added.
3. Tighten cell plugs A .
Vehicles operated in high temperatures or under severe conditions require frequent checks of the battery fluid level.
See also:
How to use INFO button
The display screen shows vehicle and navigation (if so equipped) information for your convenience. The information shown on the screen should be a guide to determine the condition of the vehicle. See ...
INFINITI vehicle immobilizer system
The INFINITI Vehicle Immobilizer System will not allow the engine to start without the use of a registered INFINITI Vehicle Immobilizer System key. If the engine fails to start using a registered I ...
Fuel gauge
The gauge indicates the approximate fuel level in the tank. The gauge may move slightly during braking, turning, acceleration, or going up or down hills. The gauge needle returns to 0 (Empty) ...