Selecting the correct oil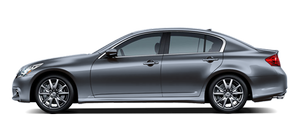 It is essential to choose the correct grade, quality, and viscosity engine oil to ensure satisfactory engine life and performance, see "Capacities and recommended fuel/ lubricants". INFINITI recommends the use of an energy conserving oil in order to improve fuel economy.
Select only engine oils that meet the American Petroleum Institute (API) certification or International Lubricant Standardization and Approval Committee (ILSAC) certification and SAE viscosity standard.
These oils have the API certification mark on the front of the container. Oils which do not have the specified quality label should not be used as they could cause engine damage.
See also:
Sport mode
Adjusts the engine and transmission points to enhance performance. Turn the drive mode select switch to the SPORT position. "SPORT" appears in the vehicle information display for 2 seconds. NOTE: ...
Air conditioner system refrigerant and oil recommendations
The air conditioner system in your INFINITI vehicle must be charged with the refrigerant HFC-134a (R-134a) and the oil, NISSAN A/C system oil DH-PS or the exact equivalents. CAUTION The use of any ...
Speaker adaptation function (for Alternate Command Mode)
The voice recognition system has a function to learn the user's voice for better voice recognition performance. The system can memorize the voices of up to three persons. Having the system learn the ...