The Inside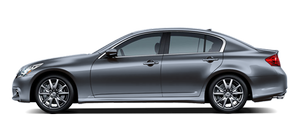 The G37 Limited's candy-red upholstery is a bit much for me, but cabin quality is otherwise very good. Padded surfaces run all the way down to foot level, with soft-touch areas in all the places your knees, elbows or hands will touch. Hell, there's even a cushioned cover over the cupholders. Luxury aside, it's nice to see Infiniti kept some essential conveniences: The overhead console includes a sunglasses holder, and the sun visors have full extensions that meet the B-pillars. Despite their inclusion on cars half this price, those two features go missing on too many luxury competitors.
Most controls are high-quality, but one of our standing complaints remains: Buttons for the central dashboard screen, where the optional navigation system resides, are perched high up on the dash, beyond easy reach. It's a shame, seeing as Infiniti has one of the better navigation setups on the market, with both touch-screen and physical controls for zooming in and out, scrolling the map and jumping to different menus.
Leather seats are standard. The Sport Package adds sport seats with larger, power-adjustable side and cushion bolsters. Even with the bolsters relaxed all the way, many drivers will find the seats narrow and constrictive, particularly the bottom cushions. What's more, I'm 5-foot-11 and could have used another inch or so of rearward seat travel so my legs could extend fully.
The backseat has enough knee room for adults, but the seat is too close to the floor, resulting in raised knees, and taller passengers will find headroom limited. That's par for this class, where backseats are usually cramped. The trunk, on the other hand, is fairly large (13.5 cubic feet), beating the 3 Series, Lexus IS and C-Class by half a cubic foot or more. Alas, Infiniti doesn't offer a folding rear seat to accommodate larger cargo, as BMW and Mercedes do. A small pass-through for skis is standard. (The G37 coupe has a single-piece folding rear seatback but only 7.4 cubic feet of trunk volume; the convertible has no folding seatback but 10.3 cubic feet when the top's up.)
See also:
The BCI system
The BCI systems can help alert the driver of approaching vehicles or rear objects when the driver is backing out of a parking space. When the shift position is R (Reverse) and the vehicle speed i ...
Draining of coolant water
If the vehicle is to be left outside without antifreeze, drain the cooling system, including the engine block. Refill before operating the vehicle. For details, see "Engine cooling system" in ...
Most common factors contributing to vehicle corrosion
• The accumulation of moisture-retaining dirt and debris in body panel sections, cavities, and other areas. • Damage to paint and other protective coatings caused by gravel and stone chips or minor t ...