Infiniti G in the Market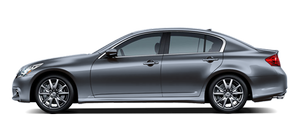 Bolstered by the addition of the G25, the G has seen a sales surge uncommon this late in a car's life cycle: It's edged out the C-Class and come within striking distance of the 3 Series — the segment's once-runaway sales leader.
The G deserves its popularity. Here's hoping Infiniti executes the car's third generation as well. I look forward to what's in store.
See also:
Linking a keyfob to a stored memoryposition
Each keyfob can be linked to a stored memory position (memory switch 1 or 2) with the following procedure. 1. Follow the steps for storing a memory position. 2. While the indicator light for the ...
Driving safety precautions
Your INFINITI is designed for both normal and off-road use. However, avoid driving in deep water or mud as your INFINITI is mainly designed for leisure use, unlike a conventional off-road vehi ...
Difference between predicted and actual distances
Backing up on a steep uphill When backing up the vehicle up a hill, the distance guide lines and the vehicle width guide lines are shown closer than the actual distance. For example, the display ...