A Tight Fit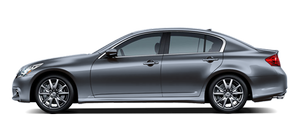 Rather than cramped, the front of the IPL's cabin feels cozy, especially the heavily bolstered sport seats. I found them snug, especially while cornering, but some people may find them too constrictive.
My 5-foot-5 self had more than enough headroom and legroom in the driver's seat, though the moonroof, which is standard in the IPL trim level, steals a couple of inches. My 6-foot-1 front passenger had to lower his seat in order to fit, which wasn't the most comfortable position. Up front, there are 37.7 inches of headroom and 43.8 inches of legroom. Comparatively, the M3 coupe has a bit more front-seat headroom but less legroom. The IS-F sedan offers slightly less headroom but a bit more legroom.
Like all G coupes, the backseat accommodates only two passengers; I missed the utility of four doors and seating for five. A long, heavy door and sloping roofline means getting into the backseat requires the usual stoop-twist coupe dance. No big deal for most, but not an easy feat when balancing a child-safety seat, which I shoehorned back there.
It's very tough to get the right fit. A rear-facing convertible seat pushed the front passenger seat all the way forward, making it unusable. With the child seat in a forward-facing position, the heavily bolstered backseat made it tough to find a flat section to nestle it into. The biggest challenge, however, was connecting the top tether strap. Its anchor is in the far corner of the shelf behind the seat.
Smaller adults should have an easier time fitting in the backseat; larger adults will be uncomfortable. Friends joked that the IPL looked like the Batmobile, but the backseat was like the Batcave. It's set very low to the ground, putting passengers in an uncomfortable knees-up position. The IPL has 34.5 inches of rear-seat headroom and 29.8 inches of legroom. Both the M3 coupe and IS-F sedan offer several inches more of each.
The IPL's trunk has a narrow-ish opening and a meager 7.4 cubic feet of cargo volume. The M3 has 11.1 cubic feet and the IS-F has 13.3 cubic feet. The IPL's backseat folds in a single piece rather than a 50/50 split.
See also:
It's the little things that count
Storage Compartments (Puny, Fair, Ample, Galore): Puny Cargo/Trunk Space (Puny, Fair, Ample, Galore): Ample ...
Satellite radio reception (if so equipped)
When the satellite radio is used for the first time or the battery has been replaced, the satellite radio may not work properly. This is not a malfunction. Wait more than 10 minutes with satellite ...
Instrument panel
Instrument panel 1. Side ventilator2. Meters and gauges3. Center ventilator4. Audio system5. Clock6. Center multi-function control panel— Navigation system* ( i f so equipped)— Vehicle information ...