120v outlet (if so equipped)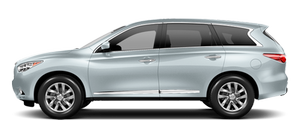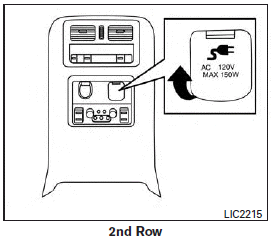 CAUTION
● The outlet and plug may be hot during or immediately after use.
● Use power outlets with the engine running to avoid discharging the vehicle battery.
● For devices that require power of 150W or over, the vehicle must be placed in the P (Park) position.
● For the power outlet located in the rear of the vehicle, do not use with accessories that exceed 120v without activating the power inverter switch. Do not use double adaptors or more than one electrical accessory.
● Avoid using power outlets when the air conditioner, headlights or rear window defroster is on.
● Before inserting or disconnecting a plug, be sure the electrical accessory being used is turned OFF.
● Push the plug in as far as it will go. If good contact is not made, the plug may overheat or the internal temperature fuse may open.
● When not in use, be sure to close the cap. Do not allow water or any other liquid to contact the outlet.
See also:
Cleaning the seat tracks
CAUTION Periodically clean the seat tracks to prevent reduction of ability to move the seats. Clean periodically with a high-powered vacuum cleaner. Dirt and debris may reduce the ability to adjus ...
Going & Stopping
The M35 should be fine for most drivers. Its V-6 churns out fluid power with no peaky bursts or low-end sluggishness, and under hard acceleration its high-pitched whine should be music to any gear ...
Car phone or CB radio
When installing a car phone or a CB radio in your vehicle, be sure to observe the following cautions, otherwise the new equipment may adversely affect the electronic control modules and electr ...