It goes faster.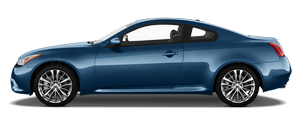 We start our trip around the upgraded IPL G Coupe in the engine bay where, aside from the chrome IPL badge on the engine cover, not much is different from a standard G37. Yep, that's the same 3.7-liter VQ37VHR engine. However, what you don't see is that thanks to a few ECU tweaks, Infiniti's engineers have managed to squeeze an extra 18 horsepower out of this mill. Now the VQ37HDR outputs 348 horsepower and twists its crank to the tune of 276 pound-feet of torque.
That torque number is only up by a scant 6 pound-feet, which may explain why the IPL G Coupe doesn't feel madly different from a G37 Sport. Zero to 60 takes about 5.0 seconds, just 0.2 seconds faster than the non-IPL model, which really makes any drag race between the two more of a driver's race than a hardware comparison. You'd really have to approach triple-digit speeds to feel any real difference between this and your neighbor's G37S.

Infiniti managed to coax a few more ponies and pound-feet out of the G Coupe's 3.7-liter engine.
You wouldn't need to do more than idle the engine to hear the difference. One of the most visible and audible upgrades the IPL G Coupe gets is a throaty exhaust system with larger dual tips. If you're like me and look back fondly on the fantastic rumble that the old G35 and 350Z had at idle and the exotic sounding howl of their 3.5-liter engines at full bore, you're in for a treat when you turn over the ignition push the start button in your new IPL G Coupe, because the growl is back.
Firing off downshifts with the seven-speed automatic gearbox as I approached every traffic light triggered a rev-matching blip of the throttle and a satisfying bark from the new exhaust. And as I pulled away from each light, that same exhaust note was usually incentive enough to hold onto each gear for a few more revs and maybe open the throttle up just a bit more. Admit it, maybe 50-percent of the reason that most people buy a performance premium variant of any car is because they want to feel like a racecar driver. The IPL's exhaust goes a long way toward creating that illusion.
I mentioned in passing that our IPL G Coupe was equipped with a seven-speed automatic transmission. This is a perfectly passable gearbox, but it's got nothing on the dual-clutch automated manual gearboxes present in BMW's performance offerings. If you're looking for the best performance from the IPL G, you'll want to save a few bucks and spec the six-speed manual gearbox. If you only signed up for the exhaust note, the rev-matching seven-speed auto will work just fine.

The IPL G Coupe may not feel noticeably faster than the standard, but it sounds a heck of a lot better at full bore.
Infiniti's gearbox features a manual shift mode, with some of the nicest paddle shifters in this segment, however the lag between a paddle input and engagement of the next gear restricted the manual shift mode's value to preselecting a lower gear for a freeway pass or forcing the transmission to hold a single gear through a twisty passage. For all other situations, just leave it in automatic Sport mode and let the rather capable computer do the shifting.
See also:
Windows
Power windows WARNING ● Make sure that all passengers have their hands, etc. inside the vehicle while it is in motion and before closing the windows. Use the window lock switch to prevent un ...
Precautions on booster seats
WARNING If a booster seat and seat belt are not used properly, the risk of a child being injured in a sudden stop or collision greatly increases:• Make sure the shoulder portion of the belt is away f ...
Fail-safe
When the fail-safe operation occurs, note that the transmission will be locked in any of the forward gears according to the condition. If the vehicle is driven under extreme conditions, such as exces ...