2012 Infiniti IPL G Coupe review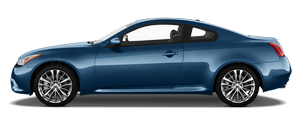 The 2012 IPL G Coupe represents many things to Infiniti. For starters, the Infiniti Performance Line (IPL) is the automaker's first dabble into the kind of performance premium sub-branding that makes German luxury cars bearing an "//M" or "AMG" badge so alluring. If the automaker deems the IPL G a success, then perhaps we'll see the sub-brand expand. Could an IPL M Sedan be on the horizon? Let's first figure out if the IPL G Coupe in the CNET garage is worth the extra dough.
Stepping up to the IPL G Coupe really only improves the G37 Sport in two measurable ways: it goes faster and it handles more sharply. The other changes, including a more raucous exhaust system and bright red leather sport seats, are more subjective improvements, but welcome additions nonetheless.
See also:
Fuses
Two types of fuses are used. Type A is used in the fuse boxes in the engine compartment. Type B is used in the passenger compartment fuse box. Type A fuses are provided as spare fuses. They are s ...
What Is It?
Infiniti's first crack at the in-house tuner idea. IPL stands for Infiniti Performance Line, the company's new performance subbrand. The IPL differs from good old Gs in that it has a more aggressi ...
Giving voice command
Giving voice command 1. Push and release the TALK switch located on the steering wheel. 2. A list of commands appears on the screen, and the system announces, "Please say a command". 3. After ...