Opening windows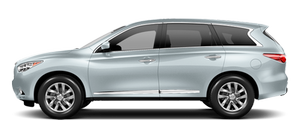 The Intelligent Key allows you to simultaneously open windows equipped with automatic operation.
● To open the windows, press the

button on the Intelligent Key for longer than 3 seconds after all doors are unlocked.
The door windows will open while pressing the
button on the Intelligent Key.
The door windows cannot be closed by using the Intelligent Key.
See also:
Glass
Use glass cleaner to remove smoke and dust film from the glass surfaces. It is normal for glass to become coated with a film after the vehicle is parked in the hot sun. Glass cleaner and a soft cloth ...
Gracenote
NOTE: • The information contained in the Gracenote Database is not fully guaranteed.• The service of the Gracenote Database on the Internet may be stopped without prior notice for maintenance. End ...
Drinking alcohol/drugs and driving
WARNING Never drive under the influence of alcohol or drugs. Alcohol in the bloodstream reduces coordination, delays reaction time and impairs judgement. Driving after drinking alcohol incr ...