Answer back horn feature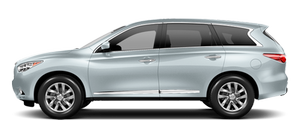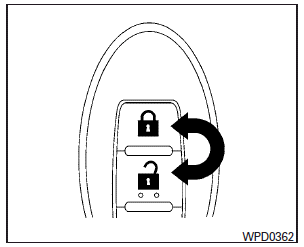 If desired, the answer back horn feature can be deactivated using the Intelligent Key. When deactivated and the LOCK

button is pushed the hazard indicator flashes twice and when the UNLOCK

button is pushed, neither the hazard indicator nor the horn operates.
NOTE:
If you change the answer back horn and light flash feature with the Intelligent Key, the vehicle information display screen will show the current mode after the ignition switch has been cycled from the OFF to the ON position. The vehicle information display screen can also be used to change the answer back horn mode. See "Answer back horn" in the "Instruments and controls" section.
To deactivate: Press and hold the

and

buttons for at least 2 seconds.
The hazard warning lights will flash 3 times to confirm that the answer back horn feature has been deactivated.
To activate: Press and hold the

and

buttons for at least 2 seconds once more.
The hazard warning lights will flash once and the horn will sound once to confirm that the horn beep feature has been reactivated.
Deactivating the horn beep feature does not silence the horn if the alarm is triggered.
See also:
INFINITI Voice Recognition Standard Mode
The following section is applicable when the Standard Mode is activated. The Standard Mode enables you to complete the desired operation by simply following the prompts that appear on the di ...
Luggage hooks
When securing items using luggage hooks located on the back of the seat or side finisher do not apply a load over more than 6.5 lbs (29 N) to a single hook. The luggage hooks that are located on ...
Battery
If the battery is not fully charged during extremely cold weather conditions, the battery fluid may freeze and damage the battery. To maintain maximum efficiency, the battery should be checked regular ...