Carlike Driving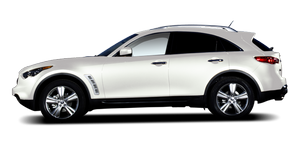 Standard in every EX is a 297-horsepower version of Infiniti's 3.5-liter V-6. It's a powerful engine with ample low-end power around town and exhilarating highway passing power, and the gas mileage it returns Ч 19 mpg in combined city/highway driving Ч is competitive. The five-speed automatic transmission remains a generation behind the seven-speed autos in Infiniti's latest models, but it's responsive enough, upshifting smoothly and kicking down with little delay when needed. Sport mode holds lower gears longer for swifter response, but there was little need for it, especially considering the gas mileage penalties usually associated with such modes.
The three-spoke steering wheel turns with a light touch at low speeds. It's one of the EX's few driving characteristics that are palpably SUV-like Ч and appropriately so, as competitors like the X3 require far too much steering effort for simple tasks, like parallel parking. The EX's steering wheel firms up at higher speeds, delivering the secure, well-directed feel you'd expect in a sport sedan. Take an off-ramp aggressively, and the EX digs in and stays on course, with minimal body roll and good grip overall. The brakes Ч antilock discs with strong, linear response Ч inspire similar confidence.
Another carlike attribute is the EX's narrow turning circle. At 34.8 feet with rear-wheel drive and 36.0 feet with all-wheel drive, it cleanly beats the competition Ч in some cases by as much as 3 - 4 feet. Very nice.
There isn't much road or wind noise, but some drivers may decide the EX rides too firmly. The suspension doesn't respond loudly over bumps like the X3's does, but Infiniti otherwise follows BMW's recipe: You feel anything significant Ч quite sharply, in some cases. The Volvo XC60 has a more forgiving ride, but its suspension is nearly as loud as the X3's. The Land Rover LR2 and most versions of the Audi Q5 ride smoother overall, and the Lexus RX is better still.
See also:
Drinking alcohol/drugs and driving
WARNING Never drive under the influence of alcohol or drugs. Alcohol in the bloodstream reduces coordination, delays reaction time and impairs judgement. Driving after drinking alcohol increases the ...
Tilt/telescopic steering
WARNING ● Do not adjust the steering wheel while driving. You could lose control of your vehicle and cause an accident. ● Do not adjust the steering wheel any closer to you than is n ...
Conventional (fixed speed) cruise control switch
Conventional (fixed speed) cruise control switch 1. ACCELERATE/RESUME switch: Resumes set speed or increases speed incrementally. 2. COAST/SET switch: Sets the desired cruise speed, reduces speed ...