2011 Infiniti EX35 Review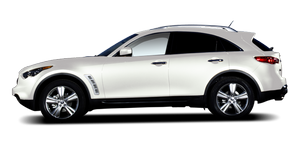 As soon as I took off in the 2011 Infiniti EX35, I immediately felt like I was driving with my grandmother. I mean that in a good way. With her desire to keep me and my passengers safe, she lets me know if anyone is in my blind spot or if someone suddenly stops in front of me. While the EX35 lacks my grandmother's obscene hand gestures, its lane departure prevention and blind spot warning systems made me feel at ease on the road.
The 2011 Infiniti EX35 is loaded with features to keep a family safe and make life easier, but it isn't loaded with legroom.
The lack of interior space is this midsize luxury crossover's glaring problem. It's too small for a family of four. While the front row's legroom was adequate, the rear legroom was severely lacking.
With a V-6 engine, the EX35 has the power of an SUV, but it felt as lightweight as a sportier car. It hugged curves and corners, and merging onto the freeway was effortless. The suspension easily absorbed potholes and other road imperfections.
The 2011 EX35 has a starting MRSP of $35,200. My test car, an EX35 Journey with rear-wheel drive, starts at $37,400, but when all the bells and whistles of the Technology and Touring packages were added on, so is another couple grand. The model I tested was priced at $45,205.
See also:
Aluminum alloy wheels
Wash the wheels regularly with a sponge dampened in a mild soap solution, especially during winter months in areas where road salt is used. If not removed, road salt can discolor the wheels. CAUTION ...
Ride & Handling
Though firmer than some in its segment — the Mercedes C-Class, for one — the G37 rides comfortably, especially given our test car's 18-inch wheels and lower-profile tires. Get on the interstate, a ...
New for 2012
Always a polarizing design, the FX has changed incrementally, again, for 2012, with a new grille that one of our editors thinks is an improvement. To me, it's a step back. (For a while, Infiniti g ...