Automatic transmission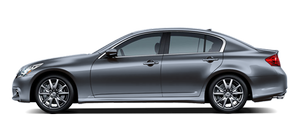 All-Wheel Drive (AWD) models:
Do not tow an AWD vehicle with any of the wheels on the ground.
Two-Wheel Drive (2WD) models:
To tow a vehicle equipped with an automatic transmission, an appropriate vehicle dolly MUST be placed under the towed vehicle's drive wheels. Always follow the dolly manufacturer's recommendations when using their product.
See also:
Safety & Reliability
In crash tests by the Insurance Institute for Highway Safety, the M earned the top possible score, Good, in both frontal and side-impact tests. Standard safety features include six airbags, with s ...
Emergency engine shut off
To shut off the engine in an emergency situation while driving, perform the following procedure: . Rapidly push the push-button ignition switch 3 consecutive times in less than 1.5 seconds, or . Push ...
LATCH lower anchor location
LATCH label locations 2nd row bench The LATCH lower anchors are located at the rear of the seat cushion near the seatback. A label is attached to the seatback to help you locate the LATCH lower an ...