Compact disc (CD) player (modelswithout Navigation System)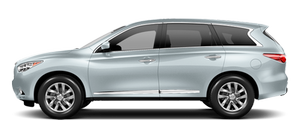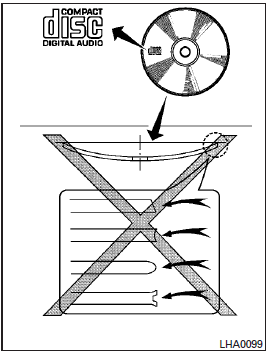 CAUTION
● Do not force a compact disc into the CD insert slot. This could damage the CD and/or CD changer/player.
● Trying to load a CD with the CD door closed could damage the CD and/or CD changer.
● Only one CD can be loaded into the CD player at a time.
● Only use high quality 4.7 in (12 cm) round discs that have the УCOMPACT disc DIGITAL AUDIOФ logo on the disc or packaging.
● During cold weather or rainy days, the player may malfunction due to the humidity.
If this occurs, remove the CD and dehumidify or ventilate the player completely.
● The player may skip while driving on rough roads.
● The CD player sometimes cannot function when the compartment temperature is extremely high or low.
Decrease/increase the temperature before use.
● Do not expose the CD to direct sunlight.
● CDs that are in poor condition or are dirty, scratched or covered with fingerprints may not work properly.
● The following CDs may not work properly:
● Copy control compact discs (CCCD)
● Recordable compact discs (CD-R)
● Rewritable compact discs (CD-RW)
● Do not use the following CDs as they may cause the CD player to malfunction:
● 3.1 in (8 cm) discs with an adapter
● CDs that are not round
● CDs with a paper label
● CDs that are warped, scratched, or have abnormal edges
● This audio system can only play prerecorded CDs. It has no capability to record or burn CDs.
● If the CD cannot be played, one of the following messages will be displayed.
CHECK DISC:
● Confirm that the CD is inserted correctly (the label side is facing up, etc.).
● Confirm that the CD is not bent or warped and it is free of scratches.
PRESS EJECT:
This is an error due to excessive temperature inside the player. Remove the CD by pressing the EJECT button. After a short time, reinsert the CD. The CD can be played when the temperature of the player returns to normal.
UNPLAYABLE:
The file is unplayable in this audio system (only MP3 orWMA(if so equipped) CD).
See also:
Care and maintenance
Use a lightly dampened, lint free cloth to clean the surfaces of your Dual Head Restraint DVD System (DVD player face, screen, remote controller, etc.). CAUTION ● Do not use any solvents or ...
Menu control switch (models with navigation system) or audio tuning switch (models without navigation system)
While the display is showing a MAP (navigation systems only), STATUS or Audio screen, tilt the switch upward or downward to select a station, track, CD or folder. For most audio sources, tilting the s ...
Anti-lock Braking System (ABS)
WARNING Х The Anti-lock Braking System (ABS) is a sophisticated device, but it cannot prevent accidents resulting from careless or dangerous driving techniques. It can help maintain vehicle control d ...