Exterior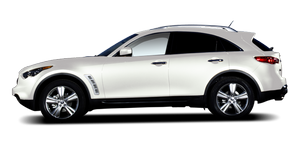 Many of Infiniti's designs are polarizing, falling into either the love-it or the hate-it category. Take the FX and EX, for example. I'm not a fan of the bulbous, jowled FX, but my test EX — in gorgeous, sparkling Midnight Garnet with softer, smoother lines and a purposefully low stance — had an upscale uniqueness that sat well with me. My husband, however, thought its proportions were just plain weird. Tomato tomahto.
The EX's height is perfect for someone of smaller stature, like me (I'm 5-foot-3). I opened up the door and slid right into the driver's seat, no ducking down or climbing up required. That may sound like a small thing, but the amount of energy I saved by not having to heft my kids up and into a huge SUV without running boards and then climb up and in myself was noticeable.
See also:
Automatic moonroof
The moonroof only operates when the ignition switch is in the ON position. The automatic moonroof is operational for about 45 seconds, even if the ignition switch is pushed to the OFF position. If th ...
Spark plugs
WARNING Be sure the engine and the ignition switch are off and that the parking brake is engaged securely. CAUTION Be sure to use the correct socket to remove the spark plugs. An incorrect socket c ...
Safety note
WARNING ► Do not disassemble or modify this system. If you do, it may result in accidents, fire, or electric shock. ► Do not use this system if you notice any abnormality, such ...