Exterior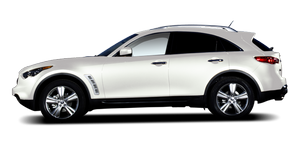 Many of Infiniti's designs are polarizing, falling into either the love-it or the hate-it category. Take the FX and EX, for example. I'm not a fan of the bulbous, jowled FX, but my test EX Ч in gorgeous, sparkling Midnight Garnet with softer, smoother lines and a purposefully low stance Ч had an upscale uniqueness that sat well with me. My husband, however, thought its proportions were just plain weird. Tomato tomahto.
The EX's height is perfect for someone of smaller stature, like me (I'm 5-foot-3). I opened up the door and slid right into the driver's seat, no ducking down or climbing up required. That may sound like a small thing, but the amount of energy I saved by not having to heft my kids up and into a huge SUV without running boards and then climb up and in myself was noticeable.
See also:
Precautions on seat belt usage
If you are wearing your seat belt properly adjusted, and you are sitting upright and well back in your seat with both feet on the floor, your chances of being injured or killed in an accident ...
2010 Infiniti EX35 Review
The Infiniti EX35 is a genuine driver's crossover: agile and composed, well-appointed and technologically advanced. But it's clear that somewhere in the rush toward putting the sport in sport util ...
Ride & Handling
Though firmer than some in its segment Ч the Mercedes C-Class, for one Ч the G37 rides comfortably, especially given our test car's 18-inch wheels and lower-profile tires. Get on the interstate, a ...