2012 Infiniti EX35 Review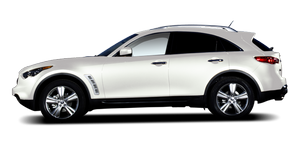 Parents often have a hard time delineating their lives as individuals from their status as "So and So's mom." Our whole lives change to revolve around our kiddos, from the way we dress (no more dry clean-only clothing) to what we drive (no more hot little Volvo C30 for me, a mom of three).
The 2012 Infiniti EX35 compact luxury crossover is a clever car that bridges that gap between form and function.
Competing with the likes of the BMW X3, Cadillac SRX and Mercedes-Benz GLK-Class, the EX35 seats five, so it's not intended as a mega family-hauler. However, my family of five Ч three of whom are ages 11 and younger Ч fit just fine. My two youngest rode in narrow Bubble Bum booster seats in the outboard seating positions, while my oldest sat in the middle in the backseat. Once carpool drop-off was done, I no longer felt like a Sherpa hired for my ability to schlep kids, booster seats and science fair projects. It was just me: a modern woman in a modern crossover heading out for afternoon yoga and a Friday night sushi date with my sexy husband.
While my test car was the higher, Journey trim level with all-wheel drive, both the Journey and the base trim are also available with rear-wheel drive. See them all compared side-by-side here.
See also:
Standard and optional equipment
Infiniti G37 Coupé has a full complement of user friendly - and above all, useful - standard equipment, plus options for those who want to make even more of a statement. Standard features ...
Precautions on distance control assist system
The system is intended to assist the driver to keep a following distance from the vehicle ahead traveling in the same lane and direction. If the distance sensor A detects a slower moving v ...
Infiniti G in the Market
Bolstered by the addition of the G25, the G has seen a sales surge uncommon this late in a car's life cycle: It's edged out the C-Class and come within striking distance of the 3 Series Ч the segm ...