Family-friendly features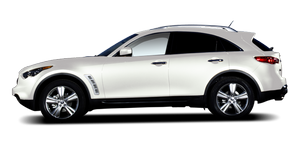 Other than offering seating for five, the EX doesn't go above and beyond in terms of family considerations. But because I loved so many other things about the EX, I was willing to overlook a few shortcomings, mainly its lack of storage space.
There's a moderately sized center console between the driver and passenger seats, plus two cupholders up front. The cupholders, however, are a smidge too close together. When my husband and I both had Starbucks cups in there, their lids fought for first place, requiring us to remove one cup to avoid popping the lid off the other. Maybe not the biggest burden in the world, but this is a luxury vehicle. We like to take long weekend road trips together, and this would definitely prove an annoyance over time.
There's a tiny compartment just large enough to stash the remote key fob in front of the gearshift. Beyond that, I was at a loss as to where to store my iPhone — important to have out when driving, as I often use it to route me. I guess I could have used the in-car navigation system, but my phone is so much easier and more reliable.
There are very narrow storage pockets in each of the front two doors — just large enough for a folded newspaper or a small clutch bag for a night out - but no extra bottle holders and no storage in the rear doors.
When the center seat wasn't occupied, my kids had access to two more cupholders in the backseat's fold-down center armrest. There's also a pocket on the back of each front seat. While the backseat was perfectly functional for two kids (and on occasion three) with kid-sized limbs, it's tight for full-sized adults. Maybe you should drive your minivan instead of the EX35 when picking up your friends for a double date, or consider one of the EX's competitors. Whereas the EX has 28.5 inches of backseat legroom, the X3 has 36.8, the SRX 36.3 and the GLK 35.1 inches. (See other specs compared here.)
Rather than write the EX off due to its lack of nooks and crannies, I found myself brainstorming ways to get creative and circumvent the problem. After all, couldn't we all use a little incentive to streamline our lives and the crud we carry in our cars? An organized environment leads to an organized mind, right?
One place that didn't require us to trim down our load was the cargo area. Strictly by the numbers, the other models mentioned have between 4.7 and 11.2 cubic feet more volume behind their backseats, but I found the EX's 18.6 cubic feet to be more than enough space for several suitcases. If we had needed more room, we could have folded the split rear seat flat to expand the cargo space to a total of 47.4 cubic feet. The process is very simple: Just press either release button in the cargo area. To raise them again for the kids to get in later, opting for the deluxe Touring Package gets you a power-operated switch near the gearshift that raises each portion automatically. I was surprised and disappointed that my $45,000 test car didn't come equipped with a power liftgate, as well.
The visual Zen on the inside of the EX carried my post-anniversary spa peace through the entire weekend. The uber-luxe wheat-colored leather seats, steering wheel and trim, punctuated with dark maple accents, felt calm and meditative.
See also:
Performance
For a massive SUV, the QX56 is a surprising performer. The 5.6-liter V-8 makes 400 horsepower and 413 pounds-feet of torque. Combined with a seven-speed automatic transmission, the QX accelerates ...
Voice Recognition System
You can also use the Bluetooth® handsfree phone system with Voice Recognition System. INFO • The available voice commands are only applicable to the relevant language set in the LANGUAGE setting scr ...
When reading the manual
This manual includes information for all options available on this model. Therefore, you may find some information that does not apply to your vehicle. All information, specifications and illu ...