2012 Infiniti QX56 Review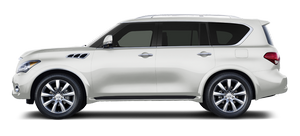 I can definitively say that I would like to ride around in it as a passenger every day; seating seven or eight people, it's cush and totally luxurious. As it should be: Padded with plenty of extras, my four-wheel-drive test vehicle came priced at an exorbitant $75,340. I may very well have to choose between this opulent, luxurious SUV and sending my kids to college. College is overrated, don't you think? My zoology degree is doing nothing for me. (Compare the four-wheel-drive version to the slightly less expensive two-wheel-drive version here.)
The QX56 manages to quell the myth that all SUVs are trucky and rugged. Instead, this beauty seeps comfort and luxury from every pore. Its private-jet-inspired interior is draped in gently gathered, buttery-soft leather, with all the extras that even the prissiest prima donnas among us would love. My favorites? Heated and cooled front seats, heated second-row seats for my prissy biological offspring (I say that lovingly), and a heated steering wheel that's just as comforting as warming my hands on a cup of cocoa.
Little has changed between the 2011 and 2012 QX; see the two compared here.
See also:
Programming HomeLink for Canadian customers and gate openers
Canadian radio-frequency laws require transmitter signals to "time-out" (or quit) after several seconds of transmission – which may not be long enough for HomeLink to pick up the signal during trainin ...
When reading the manual
This manual includes information for all options available on this model. Therefore, you may find some information that does not apply to your vehicle. All information, specifications and illu ...
Event Data Recorders (EDR)
This vehicle is equipped with an Event Data Recorder (EDR). The main purpose of an EDR is to record, in certain crash or near crash-like situations, such as an air bag deployment or hitting a road obs ...