Automatic cancellation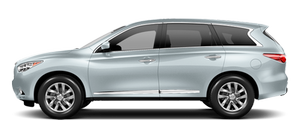 A chime sounds under the following conditions and the control is automatically canceled.
● When the vehicle ahead is not detected and your vehicle is traveling below the speed of 15 MPH (24 km/h)
● When the system judges the vehicle is at standstill
● When the shift selector is not in the D or Manual mode
● When the windshield wipers are operating at low (LO) or high speed (HI). If the vehicle is equipped with a rain sensing auto-wiper, the system may cancel when the wipers are set to intermittent (INT).
● When the parking brake is applied
● When the SNOW mode switch is turned
ON
● When the VDC system is turned off
● When ABS or VDC (including the traction control system) operates
● When distance measurement becomes impaired due to adhesion of dirt or obstruction to the sensor
● When a wheel slips
See also:
Indicator lights
Adaptive Front lighting System (AFS) indicator light (if so equipped) When the ignition switch is pushed to the ON position, the Adaptive Front lighting System (AFS) indicator light will ill ...
Heated steering wheel (if so equipped)
The heated steering wheel system is designed to operate only when the surface temperature of the steering wheel is below approximately 68°F (20°C). Push the heated steering wheel switch to warm t ...
INFINITI vehicle immobilizer system
The INFINITI Vehicle Immobilizer System will not allow the engine to start without the use of the registered key. If the engine fails to start using the registered key, it may be due to interferenc ...