Tire dressings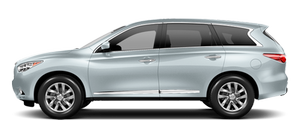 INFINITI does not recommend the use of tire dressings. Tire manufacturers apply a coating to the tires to help reduce discoloration of the rubber.
If a tire dressing is applied to the tires, it may react with the coating and form a compound. This compound may come off the tire while driving and stain the vehicle paint.
If you choose to use a tire dressing, take the following precautions:
● Use a water-based tire dressing. The coating on the tire dissolves more easily than with an oil-based tire dressing.
● Apply a light coat of tire dressing to help prevent it from entering the tire tread/grooves (where it would be difficult to remove).
● Wipe off excess tire dressing using a dry towel. Make sure the tire dressing is completely removed from the tire tread/grooves.
● Allow the tire dressing to dry as recommended by tire dressing manufacturer.
See also:
ECO mode
Adjusts engine and transmission points to enhance fuel economy. NOTE: Selecting this drive mode will not necessarily improve fuel economy as many driving factors influence its effectiveness. Oper ...
Styling & Quality
I won't waste much virtual ink describing the M's styling qualities; they're better shown in the thumbnails at right. Models with the Sport package get 19-inch alloy wheels, while others have 18-i ...
Warning light
WARNING light When the system is not operating properly, the chime sounds and the system warning light (orange) will come on. Action to take: If the warning light comes on, park the vehicle in a ...