Tire dressings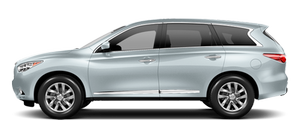 INFINITI does not recommend the use of tire dressings. Tire manufacturers apply a coating to the tires to help reduce discoloration of the rubber.
If a tire dressing is applied to the tires, it may react with the coating and form a compound. This compound may come off the tire while driving and stain the vehicle paint.
If you choose to use a tire dressing, take the following precautions:
● Use a water-based tire dressing. The coating on the tire dissolves more easily than with an oil-based tire dressing.
● Apply a light coat of tire dressing to help prevent it from entering the tire tread/grooves (where it would be difficult to remove).
● Wipe off excess tire dressing using a dry towel. Make sure the tire dressing is completely removed from the tire tread/grooves.
● Allow the tire dressing to dry as recommended by tire dressing manufacturer.
See also:
Car phone or CB radio
When installing a car phone or a CB radio in your vehicle, be sure to observe the following cautions, otherwise the new equipment may adversely affect the electronic control modules and electr ...
How to use touch screen (models with navigation system)
CAUTION • The glass screen on the liquid crystal display may break if it is hit with a hard or sharp object. Do not touch the glass if it breaks. Doing so could result in an injury.• To clean the dis ...
Connect Phone
• Add Phone Use the Pair Phone command to connect a compatible phone to the Bluetooth ® Hands-Free Phone System. When asked to enter a PIN code to connect a Bluetooth® cellular phone, enter the co ...