Air fresheners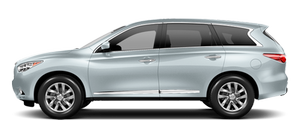 Most air fresheners use a solvent that could affect the vehicle interior. If you use an air freshener, take the following precautions:
● Hanging-type air fresheners can cause permanent discoloration when they contact vehicle interior surfaces. Place the air freshener in a location that allows it to hang free and not contact an interior surface.
● Liquid-type air fresheners typically clip on the vents. These products can cause immediate damage and discoloration when spilled on interior surfaces.
Carefully read and follow the manufacturer's instructions before using the air fresheners.
See also:
Music Box® settings
To set the Music box® hard drive/flash memory to your preferred settings, select the "Menu" key during playback, and the "Music Box Settings" key with the INFINITI controller, and then push the ENTE ...
When traveling or registering your vehicle inanother country
If you plan to travel in another country, you should first find out if the fuel available is suitable for your vehicle's engine. Using fuel with too low an octane rating may cause engine dam ...
Door locks/unlocks precaution
► Do not push the door handle request switch with the Intelligent Key held in your hand as illustrated. The close distance to the door handle will cause the Intelligent Key system to h ...