Environmental factors influence the rate of corrosion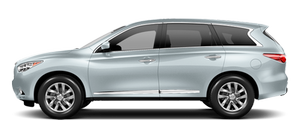 Moisture
Accumulation of sand, dirt and water on the vehicle body underside can accelerate corrosion.
Wet floor coverings will not dry completely inside the vehicle and should be removed for drying to avoid floor panel corrosion.
Relative humidity
Corrosion will be accelerated in areas of high relative humidity, especially those areas where the temperatures stay above freezing and where atmospheric pollution exists and road salt is used.
Temperature
High temperatures accelerate the rate of corrosion to those parts which are not well ventilated.
Air pollution
Industrial pollution, the presence of salt in the air in coastal areas, or heavy road salt use accelerates the corrosion process. Road salt also accelerates the disintegration of paint surfaces.
See also:
Overtaking other vehicles
The Blind spot warning indicator light illuminates if you overtake a vehicle and that vehicle stays in the detection zone for approximately 3 seconds. The radar sensors may not detect slower movi ...
Safety
When I first picked up the test car, it beeped at me several times while I was driving on the highway. It took me a minute to figure out that it was beeping every time I drifted into another lane. ...
Vehicle Security System
The vehicle security system provides visual and audio alarm signals if someone opens the doors, hood, or trunk lid when the system is armed. It is not, however, a motion detection type system that act ...