Family lifestage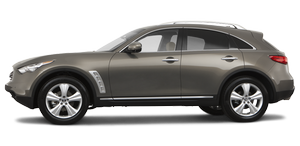 In Diapers: It'd be a tight fit for rear-facing infant seats but doable.
In School: Booster seats fit well, and there's plenty of cargo space for backpacks and other gear.
See also:
Chassis and driving dynamics
Infiniti G37 Coupé uses the second-generation version of Infiniti's FM platform. The 'front midship' engine location sees the compact V6 mounted in the front of the car, but as low and as f ...
PREVIEW FUNCTION (for Intelligent Cruise Control system equipped models)
The ICC system with the preview function identifies the need to apply emergency braking by sensing the vehicle ahead in the same lane and the distance to the vehicle ahead and relative speed from it, ...
Parking brake break-in
Break in the parking brake shoes whenever the stopping effect of the parking brake is weakened or whenever the parking brake shoes and/or drums/rotors are replaced, in order to assure the best ...