Installing front license plate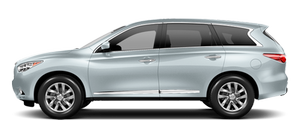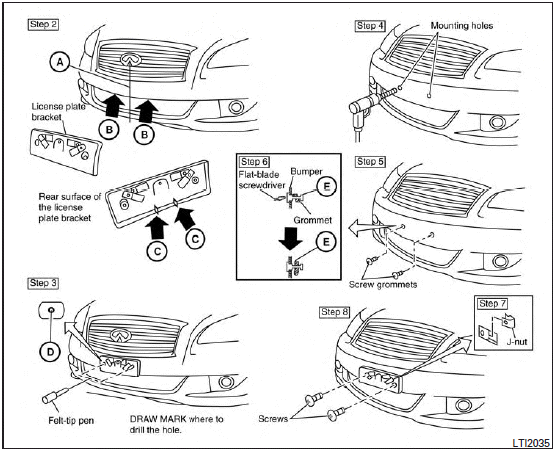 Use the following steps to mount the front license plate:
Before mounting the license plate, confirm that the following parts are enclosed in the plastic bag:
Only use the recommended mounting position, otherwise the Intelligent Cruise Control (ICC) sensor obstruction (if so equipped) may result.
● License plate bracket
● License plate bracket (J-nut) screws x 2
● License plate screws x 2
● Screw grommets x 2
1. Park the vehicle on flat, level ground.
2. Locate the center position A as illustrated.
Line up the license plate bracket under the top of the front bumper B with the tabs C .
Hold the license plate bracket in place.
3. Mark the center of the hole D with a felt-tip pen.
4. Carefully drill two pilot holes using a 0.39 in (10 mm) drill bit at the marked locations. (Be sure that the drill only goes through the bumper fascia.)
5. Insert the grommets into the holes in the bumper fascia.
6. Insert a small flat-bladed screwdriver into the grommet hole to turn the threaded part of the grommet 90∞ E .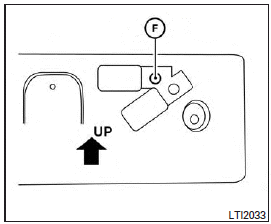 Mark the center of the hole F on both sides with a felt-tip pen. Remove the bracket from the bumper, and then open 0.79 in (20 mm) diameter holes on the bumper using the marks F as a center.
7. Insert a J-nut into the license plate bracket before placing the license plate bracket on the fascia.
8. Install the license plate bracket with screws.
9. Install the license plate with bolts that are no longer than 0.55 in (14 mm).
See also:
To protect your vehicle from corrosion
Х Wash and wax your vehicle often to keep the vehicle clean. Х Always check for minor damage to the paint and repair it as soon as possible. Х Keep drain holes at the bottom of the doors open to avo ...
Towing your vehicle
When towing your vehicle, all State (Provincial in Canada) and local regulations for towing must be followed. Incorrect towing equipment could damage your vehicle. Towing instructions are avai ...
Audio file operation
PLAY: When the DISCЈAUX or AUX button is pushed with the system off and the USB memory inserted, the system will turn on. If another audio source is playing and a USB memory is inserted, push th ...