Installing front license plate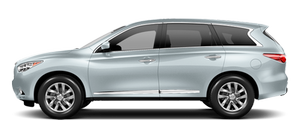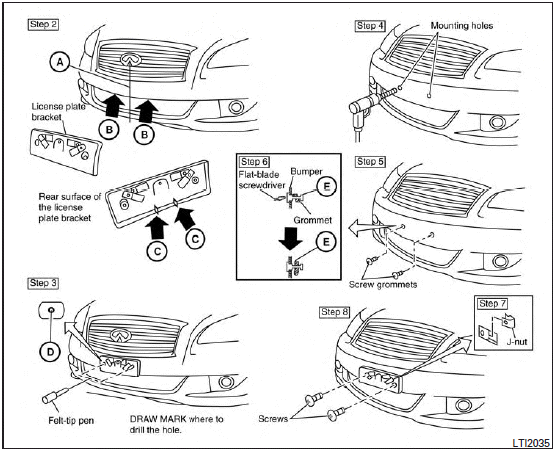 Use the following steps to mount the front license plate:
Before mounting the license plate, confirm that the following parts are enclosed in the plastic bag:
Only use the recommended mounting position, otherwise the Intelligent Cruise Control (ICC) sensor obstruction (if so equipped) may result.
● License plate bracket
● License plate bracket (J-nut) screws x 2
● License plate screws x 2
● Screw grommets x 2
1. Park the vehicle on flat, level ground.
2. Locate the center position A as illustrated.
Line up the license plate bracket under the top of the front bumper B with the tabs C .
Hold the license plate bracket in place.
3. Mark the center of the hole D with a felt-tip pen.
4. Carefully drill two pilot holes using a 0.39 in (10 mm) drill bit at the marked locations. (Be sure that the drill only goes through the bumper fascia.)
5. Insert the grommets into the holes in the bumper fascia.
6. Insert a small flat-bladed screwdriver into the grommet hole to turn the threaded part of the grommet 90° E .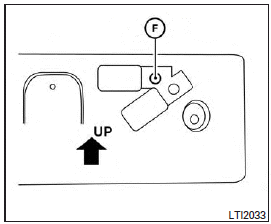 Mark the center of the hole F on both sides with a felt-tip pen. Remove the bracket from the bumper, and then open 0.79 in (20 mm) diameter holes on the bumper using the marks F as a center.
7. Insert a J-nut into the license plate bracket before placing the license plate bracket on the fascia.
8. Install the license plate bracket with screws.
9. Install the license plate with bolts that are no longer than 0.55 in (14 mm).
See also:
Parking/parking on hills
WARNING ● Do not stop or park the vehicle over flammable materials such as dry grass, waste paper or rags. They may ignite and cause a fire. ● Safe parking procedures require that ...
Jump starting
If jump starting is necessary, see "Jump starting" in the "In case of emergency" section of this manual. If the engine does not start by jump starting, the battery may have to be replaced. Contact ...
Break-in schedule
CAUTION During the first 1,200 miles (2,000 km), follow these recommendations to obtain maximum engine performance and ensure the future reliability and economy of your new vehicle. Failure to foll ...