Flat towing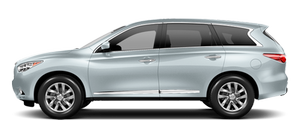 Towing your vehicle with all four wheels on the ground is sometimes called flat towing. This method is sometimes used when towing a vehicle behind a recreational vehicle, such as a motor home.
CAUTION
● Failure to follow these guidelines can result in severe transmission damage.
● Whenever flat towing your vehicle, always tow forward, never backward.
● DO NOT tow any automatic transmission vehicle with all four wheels on the ground (flat towing). Doing so WILL DAMAGE internal transmission parts due to lack of transmission lubrication.
● For emergency towing procedures refer to "Towing recommended by INFINITI" in the "In case of emergency" section of this manual.
Continuously Variable Transmission
To tow a vehicle equipped with a continuously variable transmission, an appropriate vehicle dolly MUST be placed under the towed vehicle's drive wheels. Always follow the dolly manufacturer's recommendations when using their product.
See also:
Console box
Upper half Pull up on the driver's side latch to open the upper half of the console box. The upper half of the console box may be used for storage of cellular phones. An access hole is provided ...
Vehicle recovery (Freeing a stuck vehicle)
WARNING • Stand clear of a stuck vehicle.• Do not spin your tires at high speed. This could cause them to explode and result in serious injury. Parts of your vehicle could also overheat and be damage ...
Xenon headlights
WARNING HIGH VOLTAGE ► When xenon headlights are on, they produce a high voltage. To prevent an electric shock, never attempt to modify or disassemble. Always have your xenon headli ...