Readiness for inspection/maintenance (I/M) test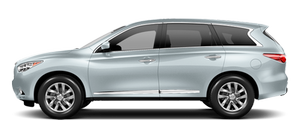 Due to legal requirements in some states and Canadian Provinces, your vehicle may be required to be in what is called the "ready condition" for an Inspection/Maintenance (I/M) test of the emission control system.
The vehicle is set to the "ready condition" when it is driven through certain driving patterns. Usually, the ready condition can be obtained by ordinary usage of the vehicle.
If a powertrain system component is repaired or the battery is disconnected, the vehicle may be reset to a "not ready" condition. Before taking the I/M test, check the vehicle's inspection/maintenance test readiness condition. Place the ignition switch in the ON position without starting the engine. If the Malfunction Indicator Light (MIL) comes on steady for 20 seconds and then blinks for 10 seconds , the I/M test condition is "not ready". If the MIL does not blink after 20 seconds, the I/M test condition is "ready". Contact a INFINITI retailer to set the "ready condition" or to prepare the vehicle for testing.
See also:
Vehicle phonebook
This vehicle has two phonebooks available for your use. Depending on your phone, the system may automatically download your entire cell phone's phonebook into the "Handset Phonebook". For the det ...
Temperature A, B and C
The temperature grades A (the highest), B, and C, representing the tire's resistance to the generation of heat and its ability to dissipate heat when tested under controlled conditions on a sp ...
How to use brightness control and display ON/OFF button
HOW TO USE BRIGHTNESS CONTROL AND DISPLAY ON/OFF BUTTON Push the button to switch the display brightness to the daytime mode or the nighttime mode, and to adjust the display brightness usin ...