Passenger compartment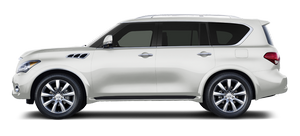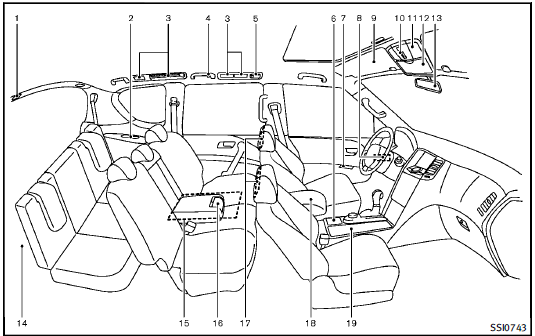 1. Cargo light (P.2-68)
2. Cup holders (3rd row seat) (P.2-55)
3. Rear ventilators (P.4-32)
4. Coat hooks (P.2-59)
5. Rear personal lights (P.2-66)
6. Tray (P.2-58)
— USB memory operation (P.4-59)
— iPod® player operation (P.4-68)
7. Door armrest
— Power window controls (P.2-61)
— Power door lock switch (P.3-5)
8. Automatic drive positioner switch (P.3-30)
9. Sun visors (P.3-27)
10. Moon roof switch (P.2-63)
11. Map lights (P.2-66)
12. Sunglasses holder (P.2-56)
13. Inside rearview mirror (P.3-27)
— HomeLink® universal transceiver (P.2-68)
14. Cargo area
— Power outlet (P.2-52)
— Cargo floor box (P.2-60)
— Luggage hooks (P.2-59)
— Jacking tools (P.6-4)
15. Rear console box (P.2-58)
— Cup holders (2nd row seat) (P.2-54)
— Pocket (P.2-58)
16. Cup holders (2nd row seat) (P.2-54)
17. Dual head restraint DVD system
(P.4-81)
18. Console box (P.2-57)
— Power outlet (P.2-52)
— Auxiliary input jacks (P.4-76, P.4-82)
— Rear automatic air conditioning system (P.4-38)
19. Power outlet (P.2-52)/Front cup holders (P.2-54)
See also:
System operation
The automatic drive positioner system will not work or will stop operating under the following conditions: . When the vehicle speed is above 4 MPH (7 km/h). • When the adjusting switch for the driver ...
DVD settings
Select the "Settings" key to adjust the following settings: ● Key (DVD-VIDEO) Displays the operation keys for the specific DVD menu. – Select the directional keys to move the cursor on the ...
Exterior
Many of Infiniti's designs are polarizing, falling into either the love-it or the hate-it category. Take the FX and EX, for example. I'm not a fan of the bulbous, jowled FX, but my test EX — in go ...