Windshield wiper and washer switch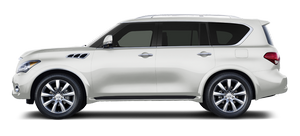 WARNING
In freezing temperatures the washer solution may freeze on the window and obscure your vision which may lead to an accident. Warm the window with the defroster before you wash the window.

CAUTION
► Do not operate the washer continuously for more than 30 seconds.
► Do not operate the washer if the reservoir tank is empty.
► Do not fill the window washer reservoir tank with washer fluid concentrates at full strength. Some methyl alcohol based washer fluid concentrates may permanently stain the grille if spilled while filling the window washer reservoir tank.
► Pre-mix washer fluid concentrates with water to the manufacturer's recommended levels before pouring the fluid into the window washer reservoir tank. Do not use the window washer reservoir tank to mix the washer fluid concentrate and water.
If the windshield wiper operation is interrupted by snow or ice, the wiper may stop moving to protect its motor. If this occurs, turn the wiper switch to the OFF position and remove the snow or ice that is on and around the wiper arms. In approximately 1 minute, turn the switch on again to operate the wiper.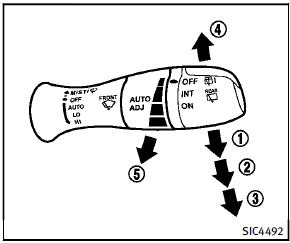 The windshield wiper and washer operates when the ignition switch is in the ON position. Push the lever down to operate the wiper at the following speed: 1 AUTO — operates the rain-sensing auto wiper system. (See "Rain-sensing auto wiper system" later in this section.)
2 LO — continuous low speed operation
3 HI — continuous high speed operation
4 MIST — one sweep operation of the wiper
See also:
Child restraints
...
Manual transmission
• Always tow with the manual transmission in Neutral. • Your vehicle speed should never exceed 70 MPH (112 km/h) when flat towing your vehicle. • After towing 500 miles, start and idle the engine wi ...
Interior
The M35x was beautiful on the inside, too. You can get it with textured aluminum or African rosewood trim. My test car had the rosewood; it was rich-looking and welcoming. The front seats were f ...