How to use INFINITI controller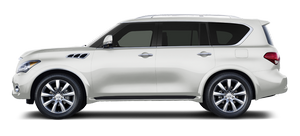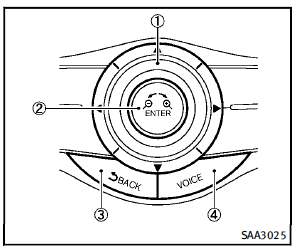 Choose an item on the display by rotating or pushing the center dial 1 upward/ downward, and push the ENTER button 2 for operation. If you push the BACK button3 before the setup is completed, the setup will be canceled and/or the display will return to the previous screen. This button can also be used to delete characters that have been input. After the setup is completed, push the BACK button3 and return to the previous screen.
For the VOICE button4 functions, refer to the separate Navigation System Owner's Manual.
See also:
Tire dressings
INFINITI does not recommend the use of tire dressings. Tire manufacturers apply a coating to the tires to help reduce discoloration of the rubber. If a tire dressing is applied to the tires, it may ...
Operating range
The Intelligent Key functions can only be used when the Intelligent Key is within the specified operating range. When the Intelligent Key battery is almost discharged or strong radio waves are pr ...
Engine oil pressure gauge
The gauge indicates the engine lubrication system oil pressure while the engine is running. When the engine speed is high, the engine oil pressure is also high. When it is low, the gauge ind ...