How to use INFINITI controller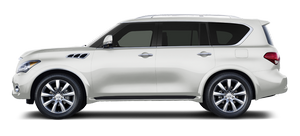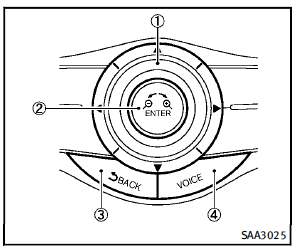 Choose an item on the display by rotating or pushing the center dial 1 upward/ downward, and push the ENTER button 2 for operation. If you push the BACK button3 before the setup is completed, the setup will be canceled and/or the display will return to the previous screen. This button can also be used to delete characters that have been input. After the setup is completed, push the BACK button3 and return to the previous screen.
For the VOICE button4 functions, refer to the separate Navigation System Owner's Manual.
See also:
Automatic climate control (Type B)
1. "AUTO" automatic climate control ON button/Temperature control dial2. Air flow control button3. "" Fan speed control dial4. "OFF" button5. "" front defroster button6. "" rear window defroster but ...
How to use the SETTING button
When the SETTING button is pressed, the Settings screen will appear on the display. You can select and/or adjust several functions, features and modes that are available for your vehicle. Use the IN ...
Compressed Video Files (models withNavigation System)
Explanation of terms: ● DivX – DivX refers to the DivX codec owned by Div, Inc. used for a lossy compression of video based on MPEG-4. ● AVI – AVI stands for Audio Video Interleave. ...