Overview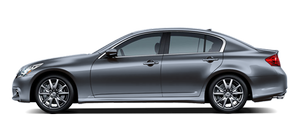 The Infiniti G37 Coupé offers dramatic performance in a thoroughly seductive shape. Although sharing a great deal of hardware with the Infiniti G37 Sedan, the Coupé is designed to appeal to different buyer.
The dynamic styling allied to its obvious performance potential will appeal to successful individuals who appreciate beautiful design and enjoy driving. They aren't prone to following the herd… and they might not even currently drive a coupé.
"The typical buyer of a Infiniti G37 Coupé will be a little younger than the four-door buyer, but no less discerning. He or she will be someone who appreciates quality but wants to make an even bolder statement," says Jim Wright, Vice President, Infiniti Europe.
"Infiniti G37 Coupé buyer might be an existing coupé driver but is just as likely to own a sports estate or a compact SUV."
When he does step into a Infiniti G37 Coupé, he'll find the exterior styling is matched by a refined interior. And when he starts the engine, he will find a true performance car that delivers what it promises. Top speed is limited at 250 km/h (155 mph), while 0-100 km/h takes just 5.8 seconds (on M/T version).
There are three versions of the Infiniti G37 Coupé on offer - the well equipped G37 Coupé, the more luxurious GT version with leather upholstery, and the sport-oriented S version with 4-Wheel Active Steer system, a Viscous Limited Slip Differential (VLSD) and sports suspension settings among other changes.
"The Infiniti G37 Coupé takes the best attributes of the four-door and adds even more. It's a car designed to appeal to the emotions, yet one which delivers on a practical level, too," says Bastien Schupp, Marketing Director, Infiniti Europe.
See also:
Engine serial number
The number is stamped on the engine as shown. ...
Sunglasses holder
WARNING Keep the sunglasses holder closed while driving to prevent an accident. To open the sunglasses holder, push 1 . CAUTION ► Do not use for anything other than glasses. ...
Foldable outside mirrors
Fold the outside mirror by pushing it toward the rear of the vehicle. ...