Push-button ignition switch positions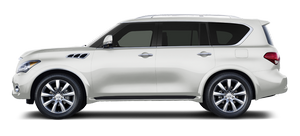 LOCK (Normal parking position)
The ignition switch can only be locked in this position. The ignition switch will be unlocked when it is pushed to the ACC position while carrying the Intelligent Key.
ACC (Accessories)
This position activates electrical accessories such as the radio, when the engine is not running.
ON (Normal operating position)
This position turns on the ignition system and electrical accessories.
OFF
The engine can be turned off in the position. The ignition lock is designed so that the ignition switch cannot be switched to the LOCK position until the selector lever is moved to the P (Park) position.

CAUTION
Do not leave the vehicle with the pushbutton ignition switch in ACC or ON positions when the engine is not running for an extended period. This can discharge the battery.
See also:
Hood
1. Pull the hood lock release handle 1 located below the instrument panel; the hood will then spring up slightly. 2. Pull the lever 2 up at the front of the hood with your fingertips and rai ...
Using the system
Depress the brake pedal and hold it down. Depress the brake pedal with firm steady pressure, but do not pump the brakes. The ABS will operate to prevent the wheels from locking up. Steer the vehicle ...
When traveling or registering your vehicle in another country
If you plan to travel in another country, you should first find out if the fuel available is suitable for your vehicle's engine. Using fuel with too low an octane rating may cause engine damage. All ...