Push starting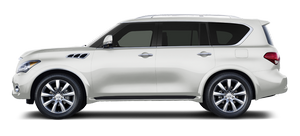 Do not attempt to start the engine by pushing.

CAUTION
► Automatic transmission models cannot be push-started or tow-started. Attempting to do so may cause transmission damage.
► Three way catalyst equipped models should not be started by pushing since the three way catalyst may be damaged.
► Never try to start the vehicle by towing it; when the engine starts, the forward surge could cause the vehicle to collide with the tow vehicle.
If needed, Roadside Assistance is available. Please see your Warranty Information Booklet or Roadside Assistance I.D. Card for the toll-free number to call (U.S.) or Warranty & Roadside Assistance Information Booklet (Canada).
See also:
Emergency engine shut off
To shut off the engine in an emergency situation while driving, perform the following procedure: – Rapidly push the push-button ignition switch 3 consecutive times in less than 1.5 seconds, or – ...
Driving safety precautions
Your INFINITI is designed for both normal and off-road use. However, avoid driving in deep water or mud as your INFINITI is mainly designed for leisure use, unlike a conventional off-road vehi ...
How to use brightness control and display ON/OFF button
HOW TO USE BRIGHTNESS CONTROL AND DISPLAY ON/OFF BUTTON Push the button to switch the display brightness to the daytime mode or the nighttime mode, and to adjust the display brightness usin ...