Tire dressing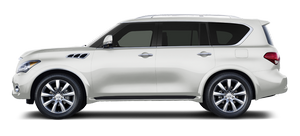 INFINITI does not recommend the use of tire dressings. Tire manufacturers apply a coating to the tires to help reduce discoloration of the rubber. If a tire dressing is applied to the tires, it may react with the coating and form a compound. This compound may come off the tire while driving and stain the vehicle paint. If you choose to use a tire dressing, take the following precautions:
► Use a water-based tire dressing. The coating on the tire dissolves more easily with an oil-based tire dressing.
► Apply a light coat of tire dressing to help prevent it from entering the tire tread/grooves (where it would be difficult to remove).
► Wipe off excess tire dressing using a dry towel. Make sure the tire dressing is completely removed from the tire tread/grooves.
► Allow the tire dressing to dry as recommended by tire dressing manufacturer.
See also:
Programming HomeLink®
To program your HomeLink® Transceiver to operate a garage door, gate, or entry door opener, home or office lighting, you need to be at the same location as the device. Note: Garage door openers (manu ...
Vehicle phonebook
This vehicle has two phonebooks available for your use. Depending on your phone, the system may automatically download your entire cell phone's phonebook into the "Handset Phonebook". For the det ...
Heater and air conditioner (automatic)
1. (front defroster) button 2. (rear window defroster) button 3. OFF button 4. Fan speed decrease button 5. Fan speed increase button 6. AUTO climate control ON button 7. REAR ...