Cleaning exterior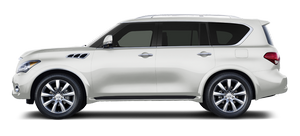 In order to maintain the appearance of your vehicle, it is important to take proper care of it. To protect the paint surface, wash your vehicle as soon as you can:
► after a rainfall to prevent possible damage from acid rain
► after driving on coastal roads
► when contaminants such as soot, bird droppings, tree sap, metal particles or bugs get on the paint surface
► when dust or mud builds up on the surface Whenever possible, store or park your vehicle inside a garage or in a covered area. When it is necessary to park outside, park in a shady area or protect the vehicle with a body cover.
Be careful not to scratch the paint surface when putting on or removing the body cover.
See also:
Intelligent cruise control system display and indicators
Intelligent cruise control system display and indicators The display is located between the speedometer and tachometer. 1. MAIN switch indicator: Indicates that the MAIN switch is ON. 2. Vehicle ...
AM radio reception
AM signals, because of their low frequency, can bend around objects and skip along the ground. In addition, the signals can be bounced off the ionosphere and bent back to earth. Because of these ch ...
Draining of coolant water
If the vehicle is to be left outside without antifreeze, drain the cooling system, including the engine block. Refill before operating the vehicle. For details, see "Changing engine coolant" in the ...