When traveling or registering your vehicle inanother country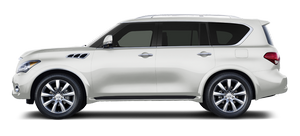 If you plan to travel in another country, you should first find out if the fuel available is suitable for your vehicle's engine. Using fuel with too low an octane rating may cause engine damage. All gasoline vehicles must be operated with unleaded gasoline. Therefore, avoid taking your vehicle to areas where appropriate fuel is not available. When transferring the registration of your vehicle to another country, state, province or district, it may be necessary to modify the vehicle to meet local laws and regulations. The laws and regulations for motor vehicle emission control and safety standards vary according to the country, state, province or district; therefore, vehicle specifications may differ. When any vehicle is to be taken into another country, state, province or district and registered, its modifications, transportation, and registration are the responsibility of the user. INFINITI is not responsible for any inconvenience that may result.
See also:
Seat belt maintenance
● To clean the seat belt webbing, apply a mild soap solution or any solution recommended for cleaning upholstery or carpet. Then wipe with a cloth and allow the seat belts to dry in the shade ...
DS (Drive Sport) mode
Move the selector lever from D (Drive) to the left into the manual shift gate. The transmission position indicator in the meter shows "DS". In the DS (Drive Sport) mode, the transmission changes to t ...
How to adjust the screen view
To adjust the Display ON/OFF, Brightness, Tint, Color, Contrast and Black Level of the Around View Monitor, press the SETTING button with the Around View Monitor on, select the item key and adjust the ...