When traveling or registering your vehicle inanother country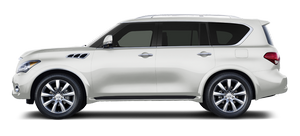 If you plan to travel in another country, you should first find out if the fuel available is suitable for your vehicle's engine. Using fuel with too low an octane rating may cause engine damage. All gasoline vehicles must be operated with unleaded gasoline. Therefore, avoid taking your vehicle to areas where appropriate fuel is not available. When transferring the registration of your vehicle to another country, state, province or district, it may be necessary to modify the vehicle to meet local laws and regulations. The laws and regulations for motor vehicle emission control and safety standards vary according to the country, state, province or district; therefore, vehicle specifications may differ. When any vehicle is to be taken into another country, state, province or district and registered, its modifications, transportation, and registration are the responsibility of the user. INFINITI is not responsible for any inconvenience that may result.
See also:
Small children
Children that are over 1 year old and weigh at least 20 lbs (9 kg) should remain in a rear-facing child restraint as long as possible up to the height or weight limit of the child restraint. Forward-f ...
Types of tires
WARNING ► When changing or replacing tires, be sure all four tires are of the same type (Example: Summer, All Season or Snow) and construction. An INFINITI retailer may be able to hel ...
Emergency engine shut off
To shut off the engine in an emergency situation while driving, perform the following procedure: ► Rapidly push the push-button ignition switch 3 consecutive times in less than 1.5 sec ...