Repair and replacement procedure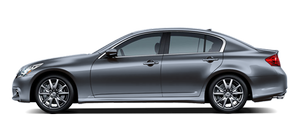 The front air bags, side air bags, curtain air bags and pretensioners are designed to activate on a one-time-only basis. As a reminder, unless it is damaged, the supplemental air bag warning light will remain illuminated after inflation has occurred.
Repair and replacement of these systems should be done only by an INFINITI retailer.
When maintenance work is required on the vehicle, the front air bags, side air bags, curtain air bags, pretensioners and related parts should be pointed out to the person conducting the maintenance. The ignition switch should always be in the LOCK position when working under the hood or inside the vehicle.
WARNING
• Once a front air bag, side air bag, or curtain air bag has inflated, the air bag module will not function again and must be replaced. Additionally, the activated pretensioner must also be replaced. The air bag module and pretensioner should be replaced by an INFINITI retailer. The air bag module and pretensioner system cannot be repaired.
• The front air bag, side air bag, curtain air bag and the pretensioner system should be inspected by an INFINITI retailer if there is any damage to the front end or side portion of the vehicle.
• If you need to dispose of the supplemental air bag or pretensioner or scrap the vehicle, contact an INFINITI retailer.
Correct supplemental air bag and seat belt pretensioner system disposal procedures are set forth in the appropriate INFINITI Service Manual. Incorrect disposal procedures could cause personal injury.
See also:
Opening windows
The UNLOCK button operation also allows you to open the window that is equipped with the automatic open/close function. (See "Power windows"). To open the window, push the door UNLOCK button 2 on ...
Moonroof
The moonroof is made from a suede material. Clean the moonroof material as follows: CAUTION To help prevent damaging the moonroof while cleaning: ● Do not rub the material with a cloth ...
Environmental factors influence the rate of corrosion
Moisture Accumulation of sand, dirt and water on the vehicle body underside can accelerate corrosion. Wet floor coverings will not dry completely inside the vehicle and should be removed for dryin ...