Touch screen operation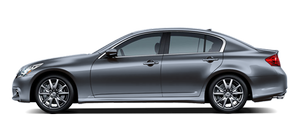 With this system, the same operations as those for the INFINITI controller are possible using the touch screen operation.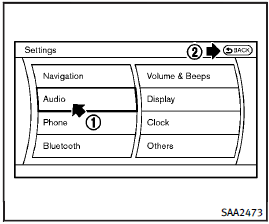 Selecting the item:
Touch an item to select it. To select the "Audio" settings, touch the "Audio" area 1 on the screen.
Touch the "BACK" 2 key to return to the previous screen.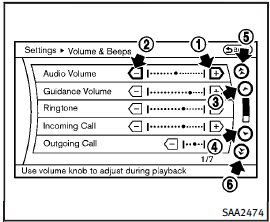 Adjusting an item:
Touch the + 1 or − 2 key to adjust the settings.
Touch the

3 or

4 key to move to the previous or next item.
Touch the

5 or

6 key to move to the previous or next page.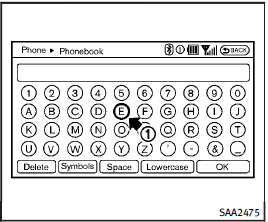 Inputting characters:
Touch the letter or number 1 .
There are some options available when inputting characters.
• Uppercase:
Shows uppercase characters.
• Lowercase:
Shows lowercase characters.
• Symbols:
Shows symbols such as the question mark (?).
• Space:
Inserts a space.
• Delete:
Deletes the last character that has been input with one touch. Push and hold to delete all of the characters.
• OK:
Completes character inputs.
See also:
Indicators for operation
1. Engine start operation indicator (Automatic Transmission models) This indicator appears when the selector lever is in the P (Park) position. This indicator means that the engine will start by p ...
Overview
The 2013 Infiniti JX will shake up the status quo when the innovative 7-passenger luxury crossover joins the Infiniti lineup in spring 2012. As a fresh, bold alternative to the many flavors of vanilla ...
Rapid air pressure loss
Rapid air pressure loss or a "blow-out" can occur if the tire is punctured or is damaged due to hitting a curb or pothole. Rapid air pressure loss can also be caused by driving on under-inflated tires ...