Touch screen operation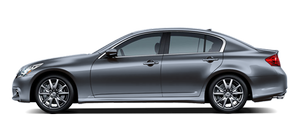 With this system, the same operations as those for the INFINITI controller are possible using the touch screen operation.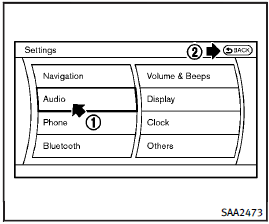 Selecting the item:
Touch an item to select it. To select the "Audio" settings, touch the "Audio" area 1 on the screen.
Touch the "BACK" 2 key to return to the previous screen.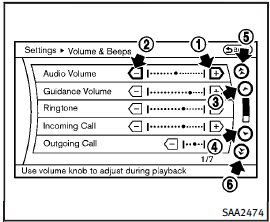 Adjusting an item:
Touch the + 1 or − 2 key to adjust the settings.
Touch the

3 or

4 key to move to the previous or next item.
Touch the

5 or

6 key to move to the previous or next page.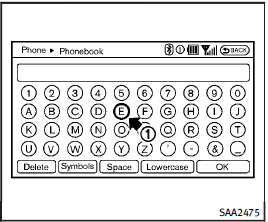 Inputting characters:
Touch the letter or number 1 .
There are some options available when inputting characters.
• Uppercase:
Shows uppercase characters.
• Lowercase:
Shows lowercase characters.
• Symbols:
Shows symbols such as the question mark (?).
• Space:
Inserts a space.
• Delete:
Deletes the last character that has been input with one touch. Push and hold to delete all of the characters.
• OK:
Completes character inputs.
See also:
Windows
Power windows WARNING ● Make sure that all passengers have their hands, etc. inside the vehicle while it is in motion and before closing the windows. Use the window lock switch to prevent un ...
Compressed Video Files (models withNavigation System)
Explanation of terms: ● DivX – DivX refers to the DivX codec owned by Div, Inc. used for a lossy compression of video based on MPEG-4. ● AVI – AVI stands for Audio Video Interleave. ...
Servicing air conditioner
1. OFF button 2. Fan speed increase (+) button 3. AUTO button 4. Temperature increase ( ) button 5. Temperature decrease ( ) button 6. Display 7. Fan speed decrease (-) button ...